Berlin anti-war rally protests NATO militarism, anti-Russian warmongering (VIDEO)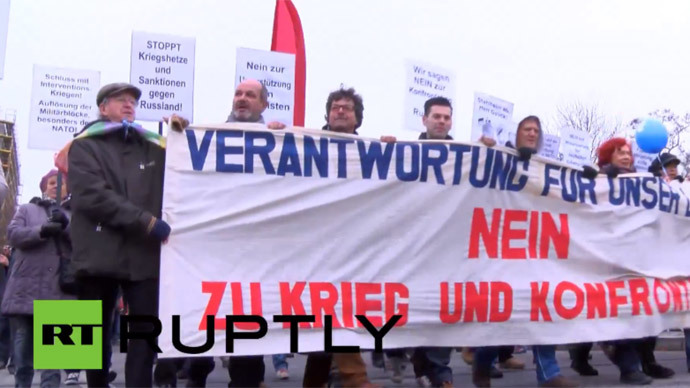 Hundreds of people in Berlin joined the German Peace Movement march on Saturday, blaming the West – especially the US and NATO – for spreading wars worldwide. The protest called for peaceful resolutions to conflicts and mending relations with Russia.
At least 3,500 people came out to support the 'Die Friedensbewegung' march, which ended outside Bellevue Palace – the official residence of Germany's President Joachim Gauck.
Footage from Ruptly shows hundreds of people marching down the streets chanting while carrying placards, posters, flags and signs.
Shouting slogans against what the protesters say is Gauck's pro-war policy, they referred to Western governments as warmongers. Organizers of the march told Die Welt that wars are spreading around the world with immense speed, and those conflicts eventually come back to bite Europe in one form or another.
They added that NATO and the US are the main players behind the militaristic policies that ignite global conflict.
One of the topics that concerned protesters the most is the relationship between Germany and Russia in light of the Ukrainian conflict.
"Russian people are our friends and we don't want to live at war with them. We like peace in Europe and Russia is one part of Europe," one of the protesters told Ruptly.
People of all ages participated in the march, including children and the elderly. Some brought along drums to keep the atmosphere upbeat.
Police were dispatched to supervise the peaceful rally, but did not intervene.
You can share this story on social media: