Guns-n-burkas: Yemen troops kill Al-Qaeda suspects disguised as women
Published time: 13 Dec, 2014 15:49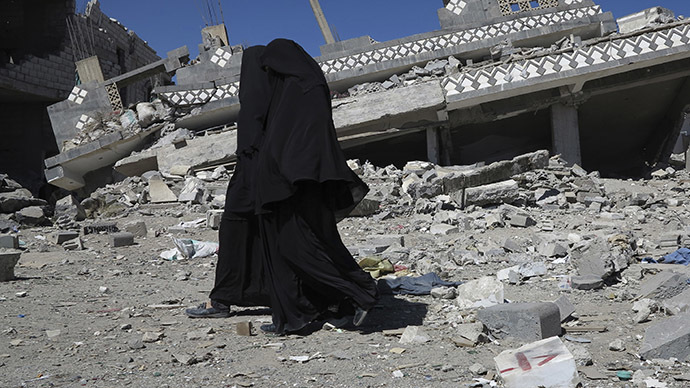 Dressing like women didn't help Al-Qaeda operatives after their bus was checked by a soldier at a checkpoint not far from the Saudi border, resulting in a shootout.
The military shot and killed five terrorist suspects, who were kitted out in traditional Yemeni female clothes, their faces covered with a niqab. The shooting happened at a checkpoint in the town of Harad, 15 kilometers from the Saudi border on Saturday, according to AFP.
"As one of the soldiers climbed on board the bus for an inspection, one of the suspects opened fire and wounded him, prompting shooting from other soldiers at the checkpoint," said a local government official.
Two of the killed were reportedly Saudis and one suspect was wounded along with the driver. The group were carrying a suicide belt and weapons.
A security official told AFP that the men "are suspected of affiliation with Al-Qaeda and were heading north towards Yemen's border with Saudi Arabia," adding that the wounded had been arrested and were being interrogated
An al Qaeda terror suspect escaping in a burka reminds me of Carry on Up The Khyber. But seriously? It happened! pic.twitter.com/AL2yTFDQPL

— PigNaps (@PigNaps) November 4, 2013
This latest development may indicate that dressing up like a Muslim woman could be a common practice among Al-Qaeda militants in the Middle East. Even their leaders are caught from time to time, trying to get past military checkpoints in burkas.
In summer 2011, a similar incident occurred in northern Afghanistan. According to a NATO statement, "The [senior Islamic Movement of Uzbekistan] leader attempted to disguise himself as a female by wearing a burka, which is an all-enveloping cloak worn by some Muslim women." He was caught with his two associates during a night-time Afghan-led security operation.