Rioters clash with police in downtown Zurich, rampage through city center (VIDEO)
Massive scenes of violence were reported in Zurich, one of the world's most quiet and prosperous cities. Some 200 masked left-wing radicals clashed with police and set streets in the city center ablaze. Seven policemen were injured in the incident.
#Pictures from #demonstration with heavy #riots in #Zurich from Friday night: http://t.co/bmAQVwqJEC#RIOTpic.twitter.com/gnRkdmXMx4

— 0xTry (@0xTry) December 12, 2014
The rioters, wearing masks and protective clothing, and armed with iron bars, gathered on Friday evening. They launched a provocation at law enforcers, a police statement said, according to AFP. A police car was set on fire and officers' equipment was stolen before police arrived on the scene.
READ MORE: Police pepper sprays protest in Germany as activists storm new EU central bank HQ (PHOTOS, VIDEO)
#krieg a dä #langstrasse ..mann, händer nüt gschiiders ztue als all die chliigwerbler ruiniere #demo#arschlöcherpic.twitter.com/QDBlR7cdsB

— alex kleinberger (@AlexKleinberger) December 12, 2014
The offenders then threw rocks and Molotov cocktails at police, setting more cars and trash bins on fire. They also shattered storefronts and attacked a restaurant, with terrified locals fleeing the scene.
Anarchists rampage through Zurich, put cars on fire as unrest hits Capitalism's last "holy site" pic.twitter.com/bS9jngENRo -- @AlexKleinberger

— Gregor Peter (@L0gg0l) December 13, 2014
To disperse the unauthorized riot, police had to deploy rubber bullets, tear gas and water cannons.
READ MORE: Clashes with police as protests against austerity sweep Italy (PHOTOS, VIDEO)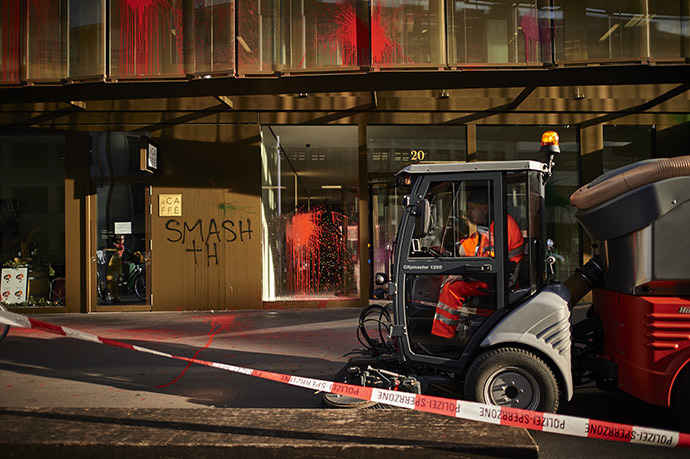 A "Reclaim the Streets" banner was seen among the crowd of protesters. The organization, which stands for the idea of community ownership of public spaces, as opposed to the dominance of corporate forces, describes itself as a non-violent movement. Its representatives said on Twitter they had nothing to do with the Zurich clashes, describing them as "brainless, ignorant violence."
To all those who brought violence to Zurich yesterday, THIS is #ReclaimTheStreets no ones in disguise, no violence! pic.twitter.com/Y5GNANOCe6

— Miriam Frei (@_BornToRead_) December 13, 2014
Clashes continued for some two hours before order was reportedly restored by midnight. Seven police officers were hospitalized after the "deliberate attack," officials said in a statement on Saturday. There have been no reports of casualties among the protesters.
READ MORE: Clashes, water cannon as 100,000+ march in Brussels against austerity (PHOTOS)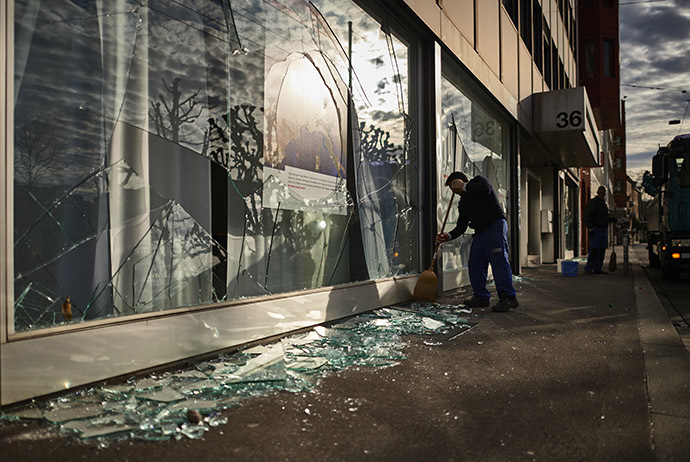 The unrest in usually quiet Zurich - Switzerland's largest and one of Europe's wealthiest cities - resulted in hundreds of thousands of euros worth of damage. Four men, aged 20 to 36, have been arrested, with two Swiss, one Briton and a person from Liechtenstein among them.
You can share this story on social media: