​Indonesian editor 'amazed' by blasphemy accusations over ISIS cartoon
Published time: 12 Dec, 2014 16:07
Edited time: 12 Dec, 2014 16:08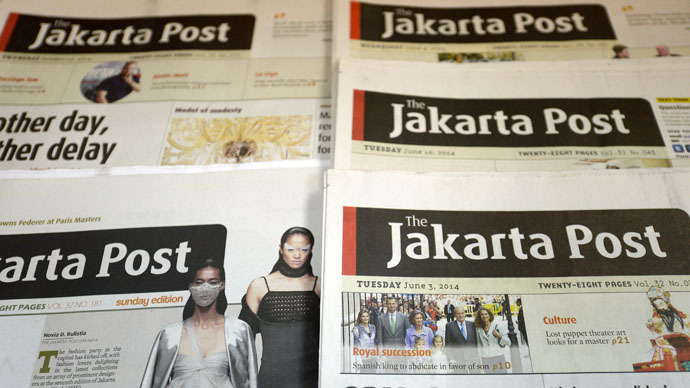 The chief editor of Indonesia's oldest English daily has been accused of blasphemy after the paper published an anti-Islamic State cartoon. The editor denies any wrongdoing and is "amazed" at the accusations, spurred by complaints from Islamic groups.
Meidyatama Suryodiningrat, editor-in-chief of the Jakarta Post, is to be questioned by law enforcers next week, according to Jakarta police representative Colonel Rikwanto, reports AP. If the police decide to hand over the case to prosecutors, Suryodiningrat could face up to five years in prison, said Rikwanto.
The cartoon, published in early July, depicts an Islamic State (IS, formerly ISIS/ISIL) militant raising a flag adorned with phrases sacred to Islam, including "La Ilaaha Illallah," meaning "there is none worthy of worship except Allah," atop a skull and crossbones.
Days after the publication, the Post issued an apology and retracted the cartoon, in response to reproach from outraged Islamic groups.
"The cartoon contained religious symbolism that may have been offensive," the Post wrote in its apology. "The Post regrets the error in judgment, which was in no way meant to malign or be disrespectful of any religion."
However, the groups continued to press for police action, and Suryodiningrat was officially named a suspect in the investigation on Thursday.
In a statement released on Thursday evening, Suryodiningrat defended the cartoon as a legitimate criticism of IS, the militant and fanatical group responsible for mass carnage throughout Iraq and Syria in their quest to create a caliphate.
#Indonesia: Jakarta Post editor faces blasphemy charge for cartoon mocking #ISIS - Absurd. http://t.co/rRzeNyOrbOpic.twitter.com/gDgSAiNrgY

— Andrew Stroehlein (@astroehlein) December 12, 2014
"We are amazed because the fact is we did not commit a criminal act as accused. What we produced was a journalistic piece that criticized the ISIS movement, which has carried out violence in the name of religion," he wrote.
"It means that the ISIS caricature was not blasphemous. We all know that ISIS is an organization that is banned in Indonesia and across almost the entire world."
READ MORE: ISIS chief alleged audio calls for 'jihad volcano' after reports of his death
He also suggested that instead of a criminal case, the issue be reviewed by Indonesia's Press Council, a government-sanctioned media regulatory body.
The Press Council has come out in support of the Post and agreed that the matter should be looked into by their board, saying "the case was merely related to journalism's code of ethics and so was not a criminal matter."
Indonesia's blasphemy laws have come under fire from rights groups who decry them as repressive and outdated. Last month, Amnesty International called on newly elected President Joko Widodo to abolish the laws, citing the large number of those imprisoned for violating the regulations under his predecessor.
The law which has been in effect since 1965, was rarely used until former President Susilo Bambang Yudhoyono took power in 2004.
Since 2004, Amnesty reports that over 100 individuals have been convicted under the law.