Polish ban on kosher and halal slaughter overturned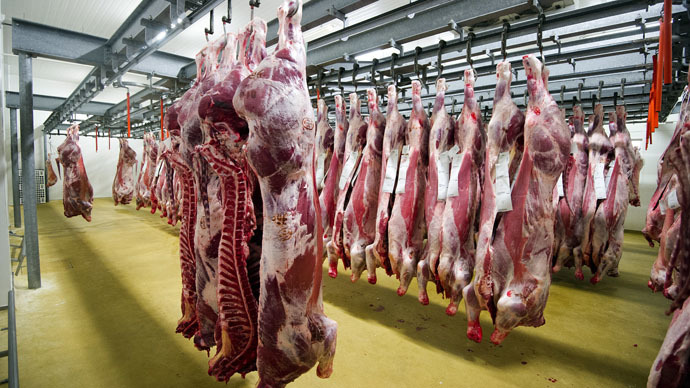 A Polish court has ruled the ban on the slaughter of animals without stunning, a practice for kosher and halal rituals, is unconstitutional. Hailed as a "triumph for religious liberty," the ban had been pushed for by animal rights activists.
President of the Conference of European Rabbis, Rabbi Pinchas Goldschmidt said in a statement the ruling meant that kosher slaughter "can continue in Poland as it has done for generations."
"The constitution guarantees the freedom of religion which includes the carrying out of all activities, practices, rites and rituals which have a religious character," Judge Maria Gintowt-Jankowicz stated in her final verdict.
"The same constitutional protection also extends to religious activities which differ from conventional behavior which prevails in the country - including activities that are perhaps unpopular among the majority of society," she added on Wednesday.
READ MORE: 'No pork or alcohol': Top London hotel being run under Sharia law?
Ritual slaughter (Jewish 'shechitah' and Muslim 'halal') has been banned in Poland since January 1, 2013, after a vigorous campaign waged by local animal rights activists. Jewish communities argued the ban violated the fundamental right to practice their faith, insisting that biblical slaughter practices (without stunning animals first to reduce their pain) meant that animals had to be conscious when being killed.
The Polish High Court stated the protection of animals "does not take priority over constitutional guarantees of religious freedom." The judge ruled that "religious freedom is a supreme value in accordance with the constitution of Poland and stands above any other law and is not restricted."
READ MORE: French 'Halal test' detects presence of pork
The Jewish and Muslim communities each number between 20,000 and 30,000 people in a country of over 38 million. Prior to the ban, Polish farmers had exported up to 500 million euros worth of kosher and halal meat a year. However, the moratorium forced Poland's Jewish and Muslim communities to import meat in a country that was once a key exporter.
"Religious freedom for Jewish communities in Europe has been under threat from those who would ban ritual slaughter and male circumcision, two fundamental Jewish rites," a survivor of the Holocaust, Abraham Foxman, with the US-based Anti-Defamation League, told AP.
He said Poland's highest court struck an "important victory for religious freedom, not only for the Jews of Poland but also for other European Jewish communities."
A board member of the Jewish Community of Warsaw said the tribunal "gave a very good signal that Poland is not an anti-Semitic country," Piotr Kadlcik told Reuters.
You can share this story on social media: