Dashcam captures Russian 'supercop' running down chased car on foot (VIDEO)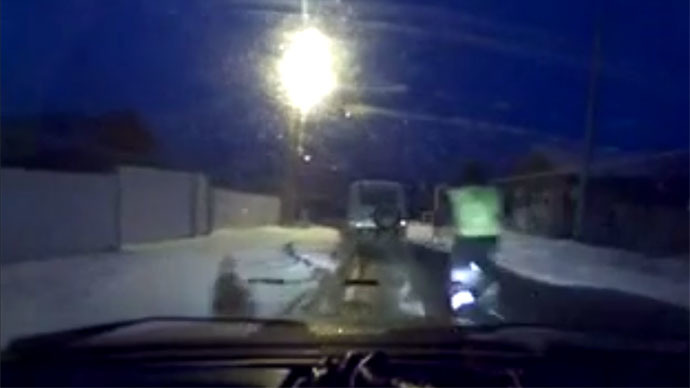 A new dashcam video showing a seemingly superhuman policeman has been making the rounds on the Russian internet. What began as a car chase somewhere in snowy provincial Russia, turned into a Terminator-style scene as a cop charged after a vehicle on foot.
The footage, recorded by a dashboard camera inside a police car, shows a night pursuit of an off-road UAZ car on a narrow slippery road. According to GPS coordinates, the incident happened near Naberezhnye Chelny, the second-largest city in Tatarstan.
After some twenty seconds, accompanied by the wailing of a police siren, the chase takes a sudden twist, as an officer jumps out of the moving patrol car into the snow and chases down the getaway vehicle on foot.
In one ferocious charge, the policeman reaches the fleeing car, flings its door open, and jumps inside.
The vehicle can be seen abruptly stopping after this, as the surprised perpetrator jumped out of his car and tried to evade the "supercop." Within seconds, the police officer is again seen racing after the guy – this time along a snowy field.
Uploaded on YouTube, the clip left most Russian viewers in awe, as they dubbed the policeman a "superhero." Some said the officer should race against Usain Bolt in the Olympics, while others joked criminals should now be ready to face such a cop when trying to escape the long arm of the law.
#Полицейский-супермен выпрыгнул из авто и бегом догнал нарушителя #follobackhttp://t.co/QSyBLCJJRBpic.twitter.com/8LroI4ZdHh

— Блокнот.ру (@bloknotnews) December 8, 2014
Not all were convinced, however, with a few branding the dashcam video, apparently recorded in April 2013, a fake.
While the footage could not be immediately verified, the video registers a speed of only 20 km/h (12 mph) at the time of the cop's bold charge, apparently due to road conditions. So, Mr Bolt, who achieves slightly less than 45 km/h (27.5 mph) in his 100-meter sprints, doesn't have to worry about his record yet – although, frankly, it wasn't set on a snowy Russian road.