Wild chase: Bear walks into Russian kindergarten, shooed away by police (VIDEO)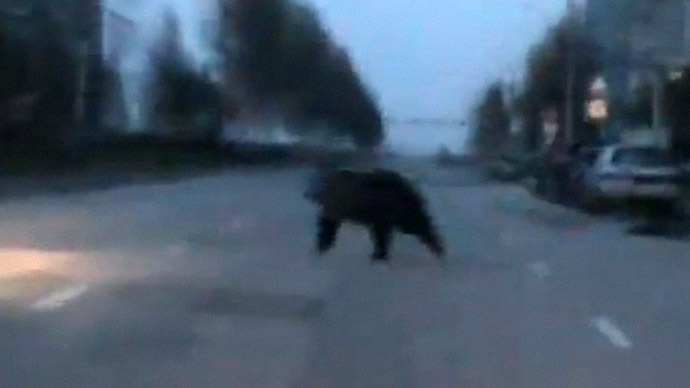 Police had to chase a lone bear in a city in Russia's Urals after receiving several calls from the alarmed citizens, who said they saw the animal roam the streets and settle in a kids' playground.
If you think that bears walk the streets of Russian cities is just a Western stereotype – you're wrong, and there's video to prove it. 
The predator made his way into the playground of a kindergarten in Nizhnevartovsk, Khanty-Mansi Autonomous Region. Luckily, it was early morning and no children were there.

The police used the loud blare of their sirens to set the bear on the run, starting a long car chase throughout the city.
"For several hours the police and the emergency workers followed his antics," Vadim Tatarenkov, Deputy Director of the Nizhnevartovsk Rescue Service, told Tyumen Times. "Normally, the city noise should've scared the bear away. It's unclear, why it didn't happen."

In the end, the animal was escorted back into the woods and order in Nizhnevartovsk was restored. 

There were no casualties or injuries reported as a result of the incident, with experts warning that the animal posed a real public threat. 
They say that it's not curiosity, but hunger, which made the beast come to the city as there's currently not enough food for it in the woods.