'F**k austerity': Protesters clash with cops outside opening night at La Scala, Milan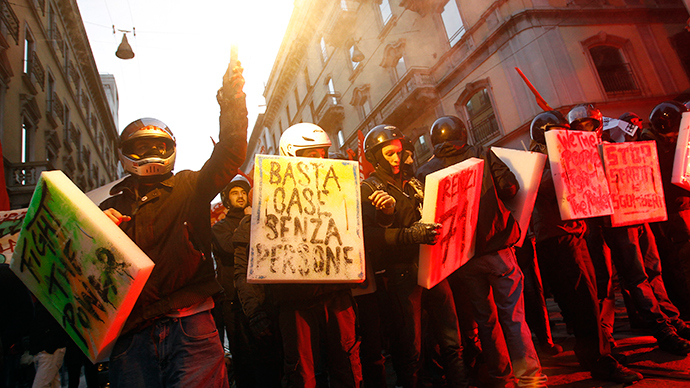 At least 300 protesters clashed with riot police in an anti-austerity march in Milan, Italy, outside La Scala which opened its glamorous opera season. Activists threw Molotov cocktails and flares, leaving two officers injured.
The demonstrators were protesting against the austerity policies of Italian PM Matteo Renzi. They demanded rights for social housing after authorities launched a series of squatter evictions.
Among the protesters there were public workers and students who voiced their criticism against Italy's labor reforms.
About 1,000 officers attempted to hold back the protesters, who were carrying banners reading "fight the power", "we resist!" and "Jobs Act = Bad Jobs." Some of the banners were slightly more radical, with expressions like "F**k austerity."
At least two police officers and four protesters were injured in the clashes, reported Italian Corriere della Sera newspaper.
"Masters and rulers will be at La Scala to celebrate the riches accumulated at our expense over a year: a display of limousines, Rolexes and fur coats," says one of the flyers distributed in the city ahead of the event.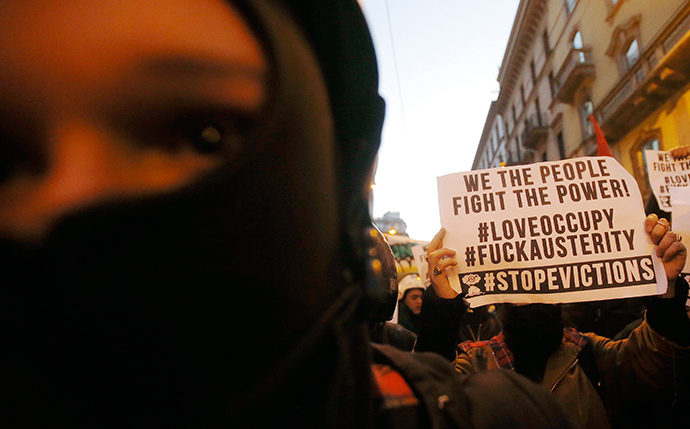 La Scala's opening night saw the cream of society, including IMF Chief Christine Lagarde and fashion designer Giorgio Armani, who arrived to see 'Fidelio' by Beethoven. Tickets for glamorous performance cost up to €2,000 (US$2,457).
Alla #PrimaScala va in scena l'opera buffa "Il brigadiere di Pisapia". Segue la solita farsa, titolata "#RenziScappa" pic.twitter.com/HBhVlyhJt1

— Tommaso Corisco (@t_rebora) December 7, 2014
Scontri alla Scala, le immagini esclusive di #serviziopubblicohttp://t.co/TVPx0W7Cukpic.twitter.com/2t6jJVJS1v

— Servizio Pubblico (@Serv_Pubblico) December 7, 2014
Milan's prefect, Francesco Paolo Tronca, who was among the guests at the performance, criticized the rally. He told AFP it was "unacceptable" to conduct "violent protests against police" and perpetrate the "hijacking of cultural events which serve to give strength and value to our city."
Anti-austerity&Housing mov VS police who protect bourgeois inside theater Scala #Milano#Italyhttp://t.co/aBUj9qXh39pic.twitter.com/bwjeXXt86h

— eⒶtps (@eatps_) December 7, 2014
However, former Minister of Economic Development Corrado Passera, who also attended the prestigious Opera House, was more sympathetic to the rioters.
There is "such a level of need among some parts of the population that it is wrong to get angry with those who protest," he said.
Prima alla Scala. Renzi, alias #Renziscappa non ha presenziato. Eppure le uova per le crêpes gliele avevano portate! pic.twitter.com/Zouk5k1Dzj

— Franco Maria Fontana (@francofontana43) December 7, 2014
le forze del disordine proteggono l'annuale cerimonia di imbalsamazione alla Scala pic.twitter.com/IvcSuUAyPh

— jacopo iacoboni (@jacopo_iacoboni) December 7, 2014
The opera's British director Deborah Warner agrees that culture and politics are intertwined, saying 'Fidelio' has parallels with the crisis events in Ukraine and in the Middle East.
"It's political because it shows that one person can make a big difference," she said "And it's a woman, not a man, fighting her way to justice and truth, which is exciting."
7/12/14 #Milano#Italy - Clashes erupted during the demonstration for the right to housing and work. pic.twitter.com/n5kwrWky9F

— Anonymous (@YourAnonGlobal) December 7, 2014
Demonstrations outside La Scala's opening night have become a tradition. They happen every year and usually end in clashes between protesters and police.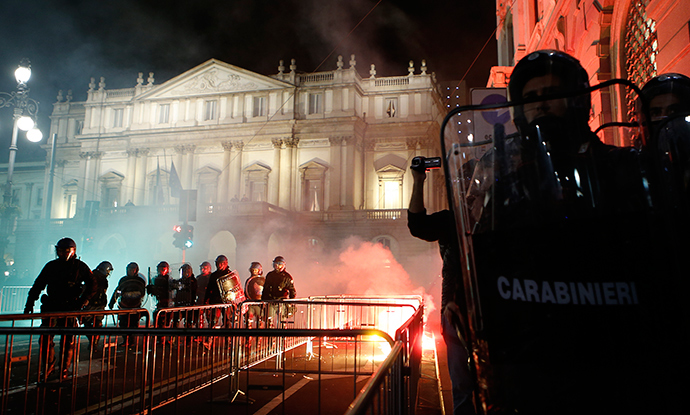 You can share this story on social media: