Voice from beyond: Steve Jobs testifies in court 3 years after death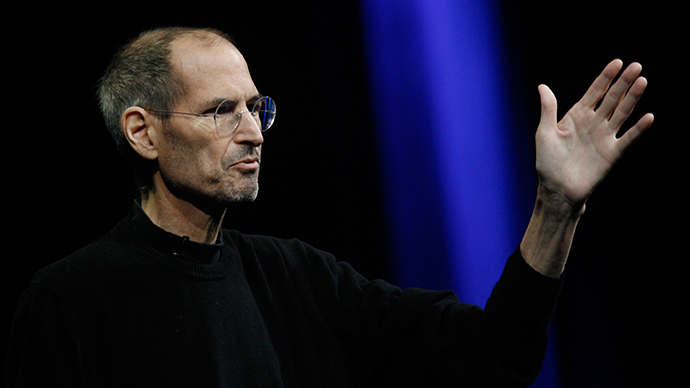 The legendary Apple CEO has become a star witness in a US antitrust trial, having come before the courtroom in a video played by the company's attorneys.
The courtroom was "transfixed" by Steve Jobs' posthumous testimony on Friday, according to AP correspondent Brandon Bailey.
In the video, which was recorded six months before Jobs' death, he defended Apple's policy of making iPods in between 2006 and 2009 accept only music from iTunes store, while blocking content from competing services.
READ MORE: Apple reveals new operating system it claims is police-proof
The plaintiffs in the case now being heard in an Oakland court believe Apple intentionally would not allow other music stores to adapt their systems to iPod in order to become a monopolist in the market.

Videotaped Jobs claims the system was rigorously kept closed for security reasons – to save it from hackers and thus to save the company from having to sort things out with music labels.

"We went to great pains to make sure that people couldn't hack into our digital rights management system because if they could, we would get nasty emails from the labels threatening us that they were going to yank the license," Jobs said, according to a transcript published by The Verge. The video has not so far been made public.

Earlier the plaintiffs, though, showed an email from Eddy Cue, who runs Internet software and services for Apple, saying music labels actually wanted iPods to be able to play music from other services.

Apple executives insist the labels were pressing the company even harder with demands of protecting the content from unauthorized copying.
READ MORE: Steve Jobs, Google CEO plotted 'gentlemen's agreement' to keep wages down – report
The message about making devices more compatible "was in conflict with what they were telling me to do" about security, said Jeff Robbin, who oversaw iTunes engineering and helped create the iTunes software, AP reports.

"The plaintiffs in this case are making one of the most aggressive arguments that is available in antitrust law -- that a company can actually have a duty to allow rivals to use that company's property," David Olson, an assistant professor at Boston College Law School and an antitrust expert, told CNET.

"Obviously the court cannot change the past, but if it finds that Apple did have a duty to deal with rivals and violated it by locking them out, then plaintiffs can be awarded damages up to three times the amount of the injury."

The plaintiffs are claiming $350 million in damages, but if the jury finds Apple guilty of violating antitrust laws the company could have to pay more than $1 billion.

The trial will continue next week.