Is Dutch Santa racist? Or a joke others just don't get...
Published time: 5 Dec, 2014 16:35
Edited time: 5 Dec, 2014 17:07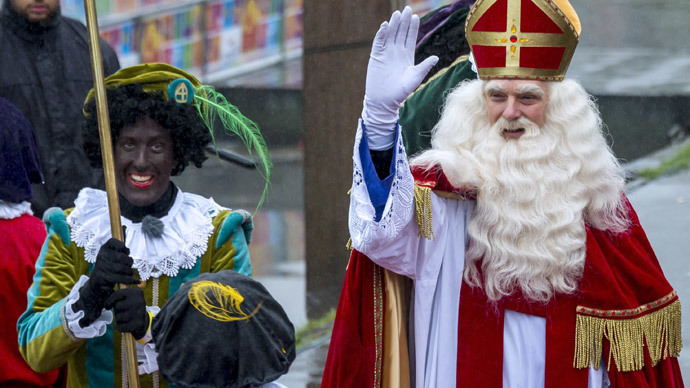 December 6 is Sinterklaas - the day Holland's Santa arrives from Spain to deliver presents. He's helped by the loyal, blacked-up throwback "Black Pete." But these days the Dutch are divided over whether the tradition is quaint or embarrassing.
While the awesome Dutch are known for many great things: dikes, cheese, agro-industry, total football, and multilingual brilliance, "Zwarte Piet" (Black Pete) does not go down well with everyone.
"Nonsense, we're not racist – you can't take a joke!" they say.
RT surfed #Sinterklaas and pulled the following at random from the interweb.
The "smart school" Ashram College tweets that Santa arrived with his magical "big book" on and Piets ROLLERSKATES:
Sinterklaas op school met sterren- en rolschaatspiet :) én natuurlijk het grote boek. Wat zal erin staan???? pic.twitter.com/6TjoiMVQvt

— Ashram College (@AshramCollege) 5 декабря 2014
Dutch naval cadets are getting presents, thanks to 'Sint en Piets' too.
C-KIM @KeesTurnhout mag ook naar voren komen bij Sinterklaas! #nldapic.twitter.com/xozy48lqJs

— Korps Adelborsten (@Adelborsten) 5 декабря 2014
The break-in prevention teams are also having a holiday, but assuring us they'll be busy while the Dutch unwrap their gifts and eat their dropjes.
We zijn er weer ook tijdens sinterklaas houden wij ons bezig met inbraakpreventie wij wensen u een fijne sinterklaas pic.twitter.com/pnpt8vM9VV

— Marlene Doorn (@Marlene_Doorn) 5 декабря 2014
The 'discovery school' in Doorn is welcoming Santa too – they tweet he's happy with his Black Petes...
Sinterklaas is er gelukkig, met kleuren- en zwarte pieten! Wat was er nu?Sinterklaas was vannacht gaan slaapwandelen! pic.twitter.com/hhNJkNqgRq

— DeOntdekkingsreis (@deontdekkingen) 5 декабря 2014
Oh and here's cartoon of Fokke and Sukke, yes, sweating it out as Pete and Santa check Facebook to see if they've been good. Obviously.
De goedheiligman gaat ook mee met zijn tijd :) #sinterklaas#fokkesukkepic.twitter.com/D6M8o6rEiP

— Peter van Mourik (@pjamourik) 5 декабря 2014
In true Dutch tourist style, Santa drops into a red light district. Perhaps the best regulated prostitution in the world. This may be a safe-sex promo.
Kom maar binnen met je knecht. #pakjesavond#sinterklaaspic.twitter.com/ZDH4ygEhFz

— Boomerang Create (@BoomerangCreate) 5 декабря 2014
Here's Black Pete on the dock, reciting Pythagoras' theorem. Natch.
Het heerlijke avondje is gekomen: 10 #sinterklaas en #zwartepiet cartoons. http://t.co/Y5S80Wp6yG#pakjesavondpic.twitter.com/l8qkQUCpGv

— Evert Kwok (@evertkwok) 5 декабря 2014
And this is perhaps a little too strange to describe properly, but it's in the north of Holland.
Het zou mij niets verbazen wanneer de grootste #sinterklaas-dichtheid van NL momenteel in #Stadshagen is pic.twitter.com/izPgsMPVn9

— Frank Haverkamp™ (@frankhaverkamp) 5 декабря 2014
The holiday remains, though, very old and very, very Dutch.
— Walther Schoonenberg (@WSchoonenberg) 5 декабря 2014