Merkel challenges net neutrality by urging fast lanes for 'special services'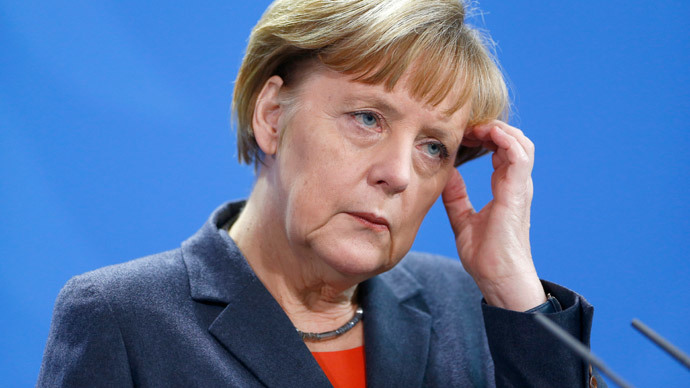 German Chancellor Angela Merkel has spoken in favor of distinguishing "between the free internet and the one for special services," saying she will take up the issue with Brussels. Net neutrality advocates have described the approach as "catastrophic."
Certain online services should be treated in a preferential way, assuring "a predictable standard of quality," Merkel told a Berlin audience Thursday, German news agency DPA reported.

"If you want driverless control of cars, or when you use certain tele-medicine solutions, then you obviously have to have an error-free and permanently available connection," she said.

Merkel argues that currently the internet in Germany isn't fast enough for the principle of net neutrality to be implemented.

"We can't talk about net neutrality if the capacity to have it isn't available," she said.
READ MORE: Will you listen now? Naked porn stars explain why net neutrality is important (VIDEO)
The European Parliament supported the principle of net neutrality in an April vote. Angela Merkel will try to challenge that at an upcoming European Council meeting.

Merkel's stance differs from that of US President Barack Obama, who last month urged the Federal Communications Commission, presumably eyeing a creation of paid "fast lanes" on the internet for some companies, to preserve net neutrality.

"Simply put: No service should be stuck in a 'slow lane' because it does not pay a fee," he said.

READ MORE: Obama urges FCC to reclassify internet amid net neutrality protests
Let's keep the internet free and fair. Support the President's plan to keep #NetNeutrality: http://t.co/aHrpYsijW6pic.twitter.com/znNomfiF89

— OFA CA (@OFA_CA) December 5, 2014
"Merkel's comments are catastrophic, she's calling for a two-tier internet," Social Democratic Party MEP Petra Kammerevert told The Local.

German net neutrality supporters have also been worried by what they see as Merkel siding with big telecom firms.

"The revolutionary thing about the web is that the content can be decided on by anyone and the principle of it is that anyone can access it," said Professor Leonhard Dobusch of the Freie Universität in Berlin. "But if you poke holes into net neutrality the way Chancellor Merkel suggests, then it's no longer democratic."