State of the Nation: President Putin addresses Federal Assembly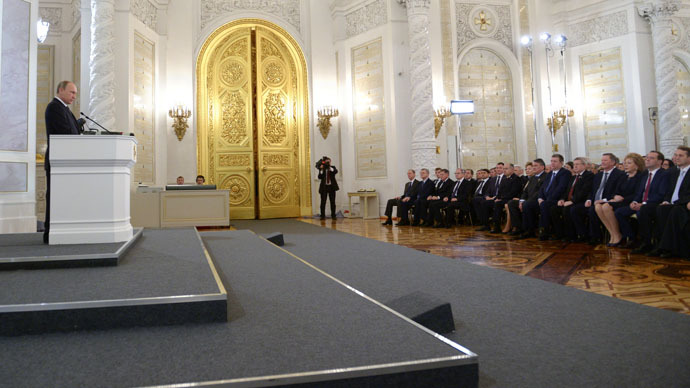 Russian President Vladimir Putin is addressing the Federal Assembly - both houses of parliament, the cabinet and other dignitaries - outlining his stance on his policies for the coming year.
04 December 2014

10:56 GMT

10:16 GMT

President Putin closes by thanking all citizens for their hard work and continued support, assuring that all obstacles can be overcome with such dedication.

10:10 GMT

4.5 million additional school places required to avoid pupils having to "study in shifts," the president says.

10:08 GMT

The single government school-leaving exam has enabled children from remote communities to access higher education. Five thousand scholarships of 20,000 rubles per year should be allocated to deserving students to foster academia and the pursuit of knowledge.

10:06 GMT

Special certification to be required for healthcare professionals to ensure ongoing quality control and best practice in medical care.

10:05 GMT

Sochi organizers congratulated. The Games have improved the health consciousness of the nation. Special congratulations go the Paralympic athletes for their inspiring performances and for highlighting the challenges they face.

10:03 GMT

Demography: the population has been increasing organically. Life-expectancy has increased to 71 years, but can be further increased to 74 in coming years.

10:01 GMT

"The core of economic development is having trained, skilled professionals," Putin says, outlining measures to reform tertiary education in engineering and other disciplines.

10:00 GMT

Technological development needs particular focus. Businesses in this sector need to outline their needs to the government and identify the challenges they face. We should work together to address these issues, as the impact on the economy will be profound.