Blind Pakistani protesters 'beaten by police' on International Day of Persons with Disabilities
Published time: 3 Dec, 2014 19:39
Edited time: 4 Dec, 2014 01:05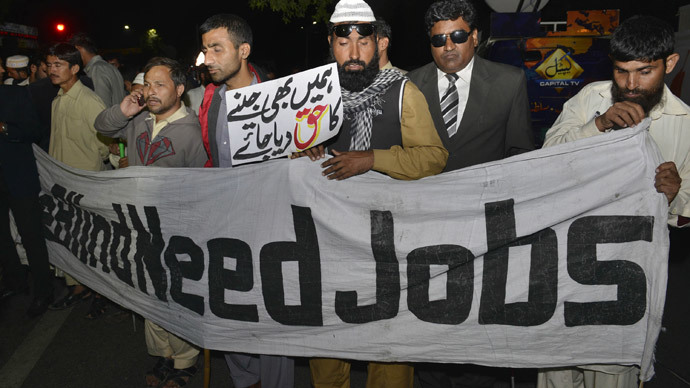 Police reportedly baton charged and struck blind protesters with poles in the eastern city of Lahore Wednesday, during a demonstration about the government's failure to implement an official quota for people with disabilities.
Around 70 blind men had amassed in front of the local press club at about noon to demand the government stick by its obligation to make sure two percent of jobs go to handicapped people.
But when they heard that the Pakistani president Mammnoon Hussain was in town they proceeded towards the governor's house leading to a clash with police.
Gulf News cited local reports saying that several protesters were injured and one of them was taken to hospital. Local channels reportedly aired the footage of the incident.
The police insist that they did not harm the protesters and simply pushed them away from the main road where a security cordon had been deployed to protect the president's motorcade.
I appeal to govt of Pakistan to take strickt action against police officers who used power against blind protesters. pic.twitter.com/H76RIcoVo7

— Abdul Sattar Edhi (@EdhiAbdulSattar) December 3, 2014
"As a last resort police had to push them away from the road due to security reasons,"local police chief Rafiullah told AFP.
But one of the blind men at the protest, Afzal Mohiuddin, who had traveled from the city of Faisalabad to be there, said the police had used excessive force.
"Police beat us with sticks and pushed also and many of us fell on the ground. We are not demanding any favor but our right to employment," he said, adding that he came from a poor family and had been unemployed for many years.
The province's government spokesman Zaeem Qadri told local TV that five policemen were suspended after the incident, Gulf News reported.
"We apologise for this incident, which should not have happened," the spokesman is cited as saying.
The protest was planned to coincide with the International Day of Persons with Disabilities, a UN sponsored day promoting greater awareness and understanding of disability issues.
There are almost two million blind people living in Pakistan, over half of them with curable forms of blindness like cataracts, according to the Fred Hallows Foundation, an Australia-based blindness charity.