HRW: Kiev fails to probe cluster bomb use against Donbass civilians, should invite ICC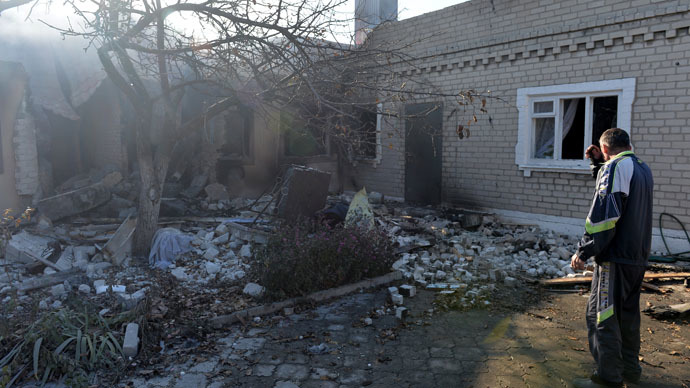 Human Rights Watch (HRW) says Kiev has failed to investigate its army's use of prohibited cluster bombs against civilians in the country's east. It also recommends Kiev invite the International Criminal Court to investigate.
The human rights watchdog is dissatisfied with the investigation conducted by the Ukrainian Prosecutor General's Office into the use of cluster bombs by the Ukrainian armed forces in the east of the country, Human Rights Watch Executive Director Kenneth Roth told a media briefing in Kiev on Wednesday.
"Instead of analyzing physical evidence," Ukraine's Prosecutor General looked into the "presence of weapons in depots," and said they were not taken anywhere, said Roth.
He explained the watchdog had appealed to Ukraine's Military Prosecutor's Office regarding the use of cluster bombs and Grad multiple rocket launchers by Kiev's military in residential areas. In turn, the prosecutor appealed to the Ministry of Defense. Therefore he said "it's no surprise" the ministry did not find any violations by Kiev's military. In addition, the inspection did not check cluster bombs, but mines, he added.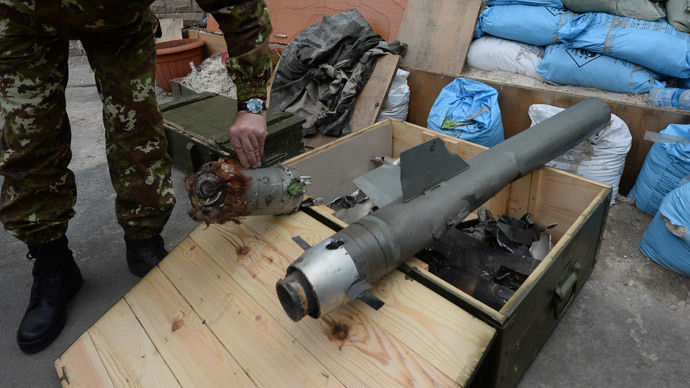 The HRW is not satisfied with this kind of investigation, he stressed.
Human Rights Watch found out during its own investigation that cluster bombs were used by pro-government forces in residential areas in eastern Ukraine, Roth said.
The area affected by the cluster bombs has a distinctive appearance, so the watchdog can say for sure that it was used in the area, Roth added. In addition, during talks with the defense ministry officials they didn't deny the "possibility" of the use of imprecise weaponry, however rejected the evidence provided by HWR, he said.
Roth stressed that fire from areas controlled by local militia does not give the right to use imprecise weaponry on residential areas.
The use of cluster munitions in populated areas violates the laws of war due to the indiscriminate nature of the weapon, and may amount to a war crime, Roth elaborated. Cluster munitions are not accurate, so they may not be used in residential areas, he explained.
Human Rights Watch has demanded Kiev ban the use of Grad launchers and cluster bombs in civilian areas.
Ukraine should ask the International Criminal Court (ICC) to investigate the violations in the east, Roth said.
Kiev had invited the ICC to investigate the Maidan deaths – but they were allowed to investigate only this episode.
However the ICC cannot fulfill its obligations and conduct its work if it is "manipulated" to look into certain events avoiding the context, Roth said.
READ MORE: Kiev govt used cluster munitions in populated zones in E. Ukraine – HRW
He also urged Kiev to join the Rome Statute of the ICC, which establishes four core international crimes - genocide, crimes against humanity, war crimes, and the crime of aggression.
On Wednesday, Russia's Foreign Ministry published its White Book report on violations of human rights in Ukraine during the period from July to November.
It said that along with heavy weapons and warplanes, the Ukrainian authorities have used incendiary, phosphorous and cluster bombs, Grad and Uragan (Hurricane) multiple rocket launchers, Tochka U ballistic missiles, howitzers and 240mm mortar systems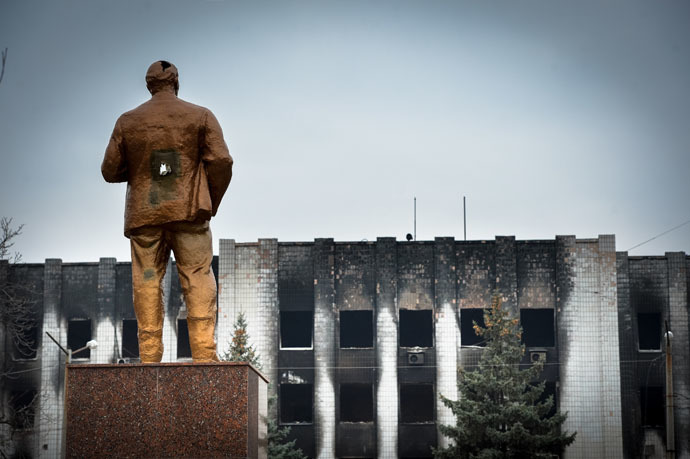 This information has been confirmed by the media, witnesses, authoritative human rights organizations such as Human Rights Watch and Amnesty International, and sources in Western governments and intelligence, the ministry said.
"Certainly, all such facts can be taken as nothing but war crimes which were committed and are committed against civilians," said the Russian Foreign Ministry's human rights ombudsman Konstantin Dolgov. He added that the evidence in the report will be submitted to HRW.
READ MORE: Ukraine, Syria civilians attacked with incendiary weapons – HRW
Ukraine has been engulfed in internal conflict since April, after Kiev's army began a crackdown operation on the eastern regions of Donetsk and Lugansk after they refused to recognize Kiev's coup-imposed government.
According to the White Book report about 2.5 million people still remain in areas of fighting, while nearly 415,000 have been displaced as of October. There are more than 830,000 refugees from Ukraine in Russia, it added.
The UN has estimated that more than 4.300 people have died in the Ukrainian conflict, with around 10,000 others wounded.
You can share this story on social media: