​Ukraine, Syria civilians attacked with incendiary weapons – HRW
Incendiary weapons were used in recent conflicts in Ukraine and Syria, Human Rights Watch (HRW) says, citing their own evidence. The organization also reported that residential areas in Ukraine suffered rocket attacks from Kiev's army.
The watchdog has analyzed evidence of attacks involving "exceptionally cruel" incendiary weapons, including white phosphorus. These allegedly occurred in 2014, during the ongoing civil war in Syria and the military operation waged in eastern Ukraine. In a damning report, the watchdog urged tougher laws on the use of munitions.
According to the report, victims of incendiary weapons, which burn at exceptionally high temperatures, often suffer long-term physical and psychological damage, as these kinds of weapons can cause exceptionally painful thermal and respiratory burns.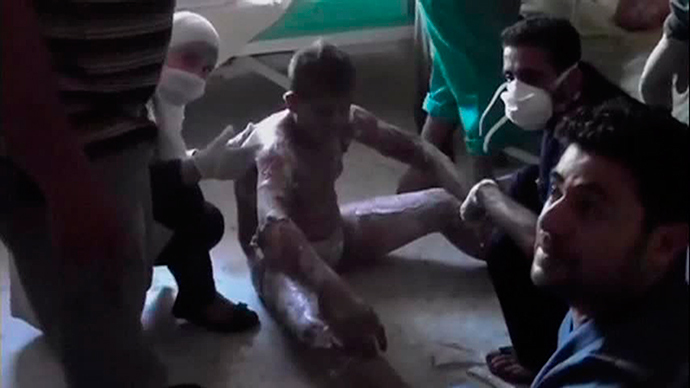 "Weapons that cause terrible burns and disfigure survivors have been used against towns in both Syria and Ukraine," said Bonnie Docherty, lead author of the report, in a statement. "The recent attacks with incendiary weapons show it's past time for nations to reassess and strengthen international law on these cruel weapons."
The HRW report recalls two "especially troubling" attacks in Ukraine – in Ilovaisk, a town 30km southeast of Donetsk, and Luganskoe, a small village south of Donetsk – where researchers have documented use of incendiary Grad rockets.
Local residents said that "weapons resembling fireworks fell on the northwest part of their town over the course of three nights and burned three homes." However, the organization failed to conclude which side of the conflict was responsible for these attacks.
Rockets fired at residential areas in eastern Ukraine from Kiev's forces - HRW
Cluster munition rockets were used during the official ceasefire in the Donetsk and Lugansk regions, HRW said in a report published on Wednesday.
The rockets were fired at the eastern Ukrainian city of Donetsk in early October, the organization said, adding that the cluster munition attacks came from territory controlled by the Ukrainian military.
"The evidence overwhelmingly indicates that these rockets were fired from the government-held positions," the international rights organization reported, saying the attacks might have been targeting "rebel forces."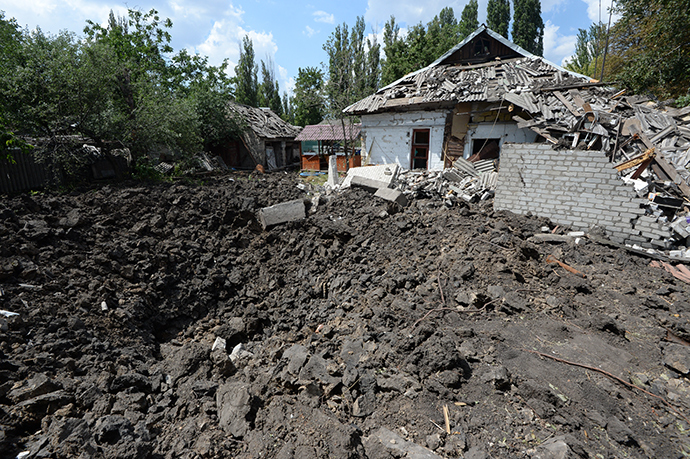 HRW says it has evidence that multiple rocket launchers (Uragan and Smerch) were used in the shelling. This includes rockets fragments, such as a "number of rocket engines and nose cones" found by the organization's experts in Donetsk, as well as witnesses' reports and experts' views.
The cluster munition parts were found near supermarkets and residential buildings in Donetsk, and several villages in the Donetsk and Lugansk regions. According to the organization, the Swiss Red Cross worker, 38-years old Laurent DuPasquier, was killed in one of these attacks in Donetsk.
HRW is ready to hand over its documents to the UN or any other concerned international organizations.
"Of course we're willing to explain our findings to any interested government or international organization," Mark Hiznay, senior arms researcher at HRW, told the RIA Novosti news agency, adding that HRW has not "officially" provided its information to anyone yet, as it can't force organizations or governments to cooperate.
Horror of incendiary weapons, Nigeria, Mali, Gaza, Russia, DRC, Egypt, gay rights, more.. http://t.co/B7388Ob7expic.twitter.com/CqOH6QGUOW

— Human Rights Watch (@hrw) November 11, 2014
In Syria, over a two-year period, HRW reported at least 57 incendiary weapons attacks – strikes on schools among them. The document cites a British doctor volunteering at Altarib Hospital at the time of the attack on August 26, 2013, in northern Aleppo governorate.
"Three bodies were in a pickup truck outside in the hospital courtyard. These bodies, of three female students, were unrecognizable due to the severity of the burns," said Sahleyha Ahsan. "It was also impossible to tell that they were in fact female, but I was informed by hospital staff that they were. They had been in the direct hit area of the bomb."
Highlighting the influence and power of the public condemnation, HRW has reminded about the latest Israeli military operation in Gaza. This year, the country "avoided use of white phosphorus munitions … apparently due to a policy change resulting from the international criticism of its previous use in Gaza."
Proposing several means to limit the use of incendiary weapons, HRW said that "A comprehensive ban on the weapons would have the most far-reaching humanitarian benefits."
Backing its idea, the watchdog recalled that Russia had voiced concerns at the UN this June that the Ukrainian government had used white phosphorus against civilians. This instance, in the HRW's opinion, can "show… that [use of such weapons] is increasingly viewed as unacceptable at the international level."
Human Rights Watch, alongside with Harvard Law School's International Human Rights Clinic released a report, entitled 'Incendiary weapons: Recent use and growing opposition' on Tuesday, right before the annual meeting of the Convention on Conventional Weapons (CCW) members. It is currently taking place at the United Nations office in Geneva.
Back in October, HRW reported the use of cluster munitions in the highly-populated Ukrainian city of Donetsk. This kind of weapons is explosive – and the danger lies in the fact that it releases smaller submunitions over a wide area.
SS-21 Scarab hit outskirts of #Donetsk here are some confirmation pics. pic.twitter.com/JdUiOk8pXE

— Roman Kosarev (@Kosarev_RT) October 20, 2014
"During a week-long investigation on the ground in eastern Ukraine, Human Rights Watch has found widespread use of cluster munitions. Our evidence shows that the Ukrainian armed forces were responsible for at least some of these attacks,"said Ole Solvang, senior HRW researcher. "In the incidents, documented by Human Rights Watch, cluster munitions killed at least six civilians and injured dozens."
You can share this story on social media: