Mona Lisa was da Vinci's Chinese mother? New theory provokes parodies on Twitter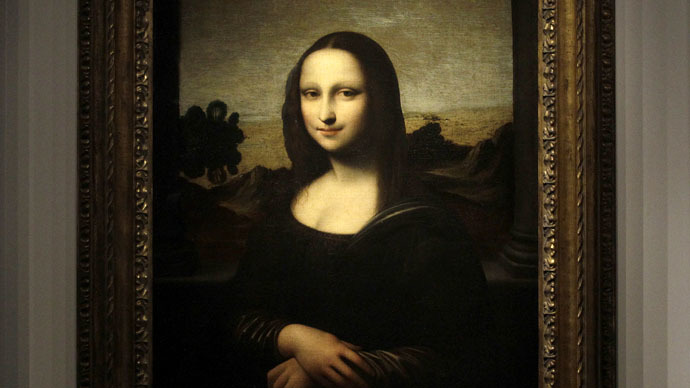 An Italian historian's theory that Mona Lisa was not only a Chinese slave, but also Leonardo da Vinci's mother has provoked social media storm, with parodies of the famous La Gioconda painting mushrooming over the Internet.
"On the back of Mona Lisa, there is a Chinese landscape and even her face looks Chinese," a Hong Kong-based historian and novelist from Italy, Angelo Paratico, told the South China Morning Post.

A Hong Kong resident of over 20 years, Paratico is currently working on a book entitled 'Leonardo da Vinci: a Chinese scholar lost in Renaissance Italy'.

Given how little is known about Da Vinci's mother, the historian cited Sigmund Freud's 1910 classic assumption that the painting was inspired by the artist's mother.

"One wealthy client of Leonardo's father had a slave called Caterina. After 1452, Leonardo's date of birth, she disappeared from the documents," he told the paper.
Very early rough draft of Da Vinci's Mona Lisa doesn't prove anything. http://t.co/NodceVeUSdpic.twitter.com/fIjyHyg46V

— Ray Kwong (@raykwong) December 3, 2014
Mona Lisa was an Indian and her painting was done by our Hindu ancestor in 3000 BC, It's actual name was Mona-li Shah pic.twitter.com/qjhAv28Niu

— Haji S. Pasha (@HarPasha) November 28, 2014
Photo: Spanish Mona Lisa http://t.co/QGwKE7UqlO

— Fabian Delven (@FabianDelven) November 27, 2014

Paratico said he is "sure up to a point that Leonardo's mother was from the Orient, but to make her an oriental Chinese, we need to use a deductive method."

"During the Renaissance, countries like Italy and Spain were full of oriental slaves," he noted.

According to Paratico, there were several proofs of Da Vinci's Chinese ancestry, "for instance, the fact he was writing with his left hand from left to right … and he was also a vegetarian, which was not common" among Europeans.

Twitter users responded to the astounding theory with barefaced irony.
This guy thinks the Mona Lisa is actually Leonardo da Vinci's Chinese slave-mother http://t.co/tJL5PSMleG

— THAT'S (@ThatsOnline) December 2, 2014
Aaaand one for the road! :-) Suhair Sibai - Artist. "Syrian Mona Lisa" pic.twitter.com/PprRXc3GMw

— JR Ella (@BornInBlues) December 3, 2014