Life on Mars? Carbon-containing meteorite from Red Planet restarts debate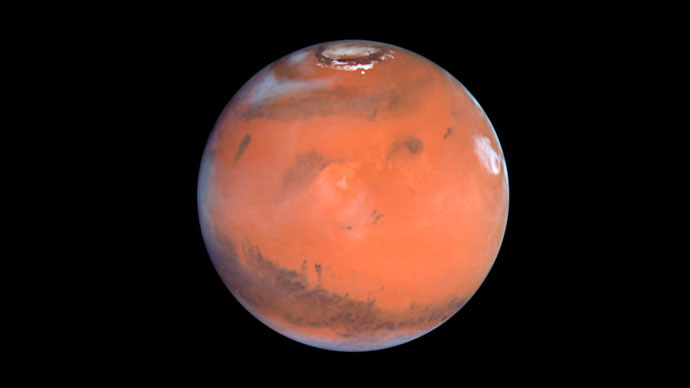 Researchers have analyzed a meteorite that fell in the Moroccan desert three years ago, finding "unique" traces carbon of "a very probable biological origin" and thus rebooting the theory about life on Mars.
A team of scientists headed by the Federal Polytechnic School of Lausanne (EPFL) in Switzerland has stated that "there is no other theory that we find more compelling," AFP reported.
Their research says that liquid carbon-containing substances "of biological origin" got into the "mother" rock at low temperatures, and it happened near the Martian surface.
The traces of carbon remain in the meteorite's fissures, scientists believe.
The quantity of carbon-13 to its carbon-12 isotopes in fact matches that of coal on Earth.
However, researchers still leave room for doubt.
"Insisting on certainty is unwise, particularly on such a sensitive topic," Philippe Gillet, director of the school's Earth and Planetary Sciences Laboratory, warned.
"I'm completely open to the possibility that other studies might contradict our findings. However, our conclusions are such that they will rekindle the debate as to the possible existence of biological activity on Mars – at least in the past," he added.
The Tissint meteorite fell on Earth on July 18, 2011.
The meteorite is considered to have come from the Red Planet, allegedly after an asteroid strike.
The latest study comes a year after it was discovered that a freshwater lake was situated on Mars about 3.5 billion years ago.
Last September, traces of water were discovered on the surface of the Red Planet.