French parliament votes to recognize Palestinian state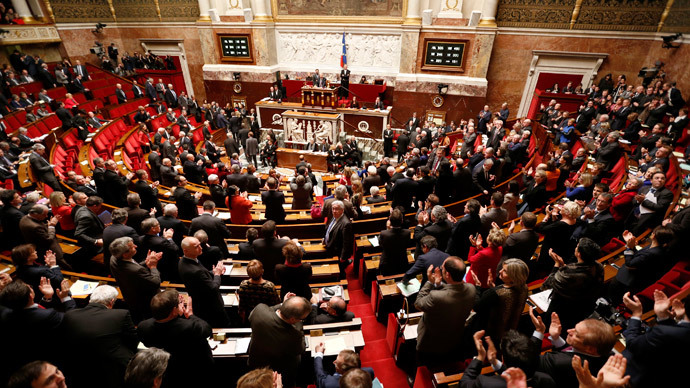 France's Socialist-led parliament has passed a symbolic vote to recognize Palestinian statehood, despite staunch objections from Israel. MPs in Britain and Spain have already passed similar motions.
The proposal was passed with 339 votes in favor and 151 against, meaning that it was supported by more than two-thirds of French lawmakers.
Israel immediately responded, saying that the motion would "harm the peace process," AFP reported.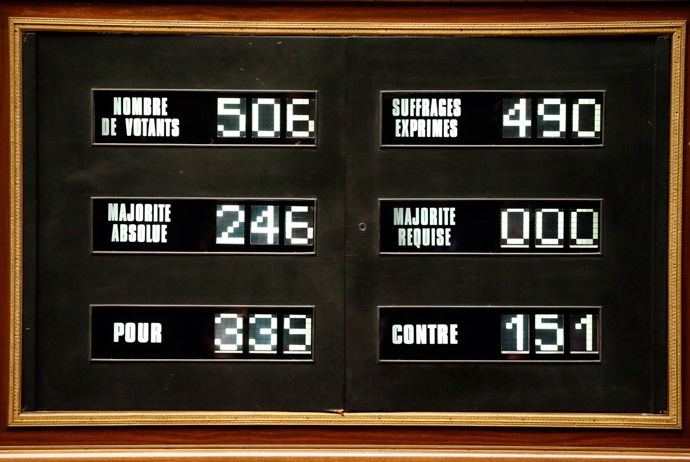 The vote is non-binding, but sends a signal that Israelis and Palestinians must return to the negotiating table, following the collapse of US-mediated statehood talks in April.
"We don't want a symbolic recognition that will only lead to a virtual state. We want a Palestinian state that is real so we want to give a chance to negotiations," Europe Minister Harlem Desir told lawmakers after the votes were tallied.
Foreign Minister Laurent Fabius has supported the vote, setting a two-year deadline for the creation of an independent Palestine. He said that if no resolution had been found by then, France would officially recognize Palestine anyway.
#INFOGRAPHIC French MPs vote in favour of recognising Palestine http://t.co/T4TImg8Qn0pic.twitter.com/jiButXkgiD

— Agence France-Presse (@AFP) December 2, 2014
So far, Sweden has been the only country to diplomatically accept the existence of Palestine, despite similar symbolic votes across Europe.
But not everybody accepted Tuesday's motion as a "gesture of peace and friendship," as it was described by its supporters.
"It will add fuel to the fire in a region that doesn't need that at all," said Christian Jacob, leader of the conservative UMP Party, which voted against the initiative.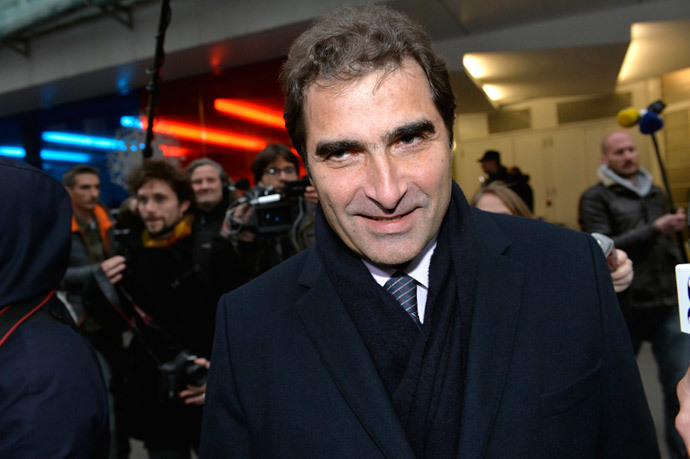 Outside the parliament building, several hundred Jewish demonstrators gathered in protest, bearing placards reading: "Hamas + Fatah = Terrorist state."
Israeli officials have said that Europe's drive to legitimize Palestine is a validation of Hamas's rocket attacks on settlements inside Israel, and disincentivizes Palestinians from making any further concessions during future talks.
April's negotiations stalled after the Palestinians refused to abandon their commitment to the "right of return," a condition that means potentially millions of Arabs from nearby regions would be entitled to Israeli citizenship.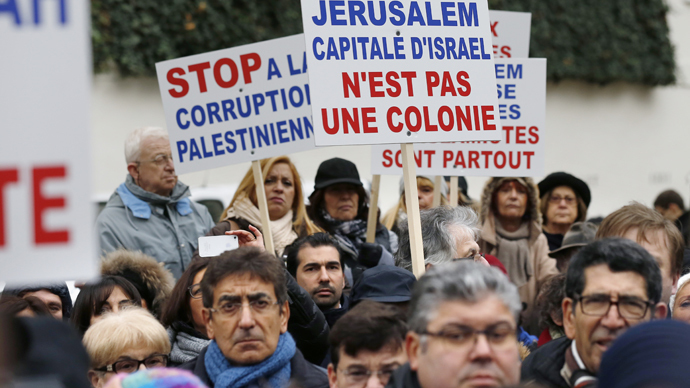 In turn, Jerusalem is failing to budge on Jewish settlements in the West Bank, and insisting that IDF troops should be stationed permanently in the area, even after the creation of an independent Palestine.
The situation has been further inflamed by Israel's incursion into Gaza this summer, in which over 2,100 Palestinians and more than 60 Israelis died.
You can share this story on social media: