Estonia issues 1st electronic residency card to UK journalist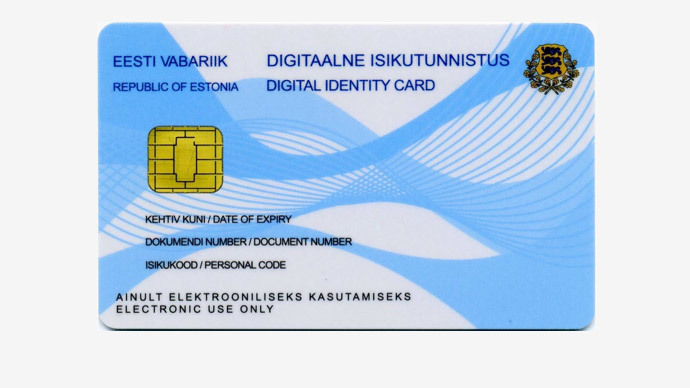 Estonia has become of the first country in the world to launch an electronic residency program, hoping that the innovative approach will persuade foreigners to invest and start businesses in the Baltic state.
The first virtual residency card was issued Monday to British journalist Edward Lucas, a senior editor at The Economist magazine, on Monday.

The card with an embedded microchip will allow Lucas to conduct business activity in Estonia while staying abroad.

Thanks to e-residency, Lucas and other foreigners will be able to perform secure transactions with the Estonian-based financial services and sign documents digitally from any place in the world.
Best wishes & congrats to Senior Editor @TheEconomist@edwardlucas for the first #e-residence card of #Estoniapic.twitter.com/TLMc9o7bKm

— Lauri Bambus (@LauriBambus) December 1, 2014
According to local media, over 11,000 people from 150 countries have already expressed a desire to become electronic residents of Estonia.

However, the document is only valid in an electronic environment as it doesn't ensure Estonian citizenship or even guarantee entry to the country.

Estonian officials believe that foreigners will be interested in digital IDs due to the country's flat tax structure and the fact that it doesn't tax profits reinvested into business.

"The adoption of non-resident ID cards is an additional argument in favor of investing in Estonia," Taavi Kotka, the deputy secretary general at the Estonian Ministry of Economic Affairs, told the Tech Week Europe website.

"Today, it is difficult for a foreign investor to actively participate in the executive management of a company. The non-resident ID card and digital signature would provide the necessary flexibility," Kotka said.
Electronic residency in Estonia is open to anyone who passes a criminal background check.

"The request will be processed within 10 working days, a security check is conducted, and if the applicant is sufficiently trustworthy to receive e-residency, a digital ID card is made for him," Margit Ratnik, head of the Identity and Status Bureau, told the Baltic Times.

"The applicant must personally go to the Police and Border Guard Board service station [in Estonia] to receive the card," Ratnik said.

Estonian officials said that the procedure will change in 2015, with the country's embassies and consulates abroad to start handing out e-residency cards.

The e-residency program kicked off after the Estonian Development Fund and the former CEO of Skype, Sten Tamkivi, organized a contest for the best idea to bring foreign businesses to Estonia.

The contest was won by the electronic residency project, which has advocated the introduction of 10 million e-Estonians by 2025.
You can share this story on social media: