Always Be Chatty: Japanese robot Pepper will sell you a coffee machine… with a smile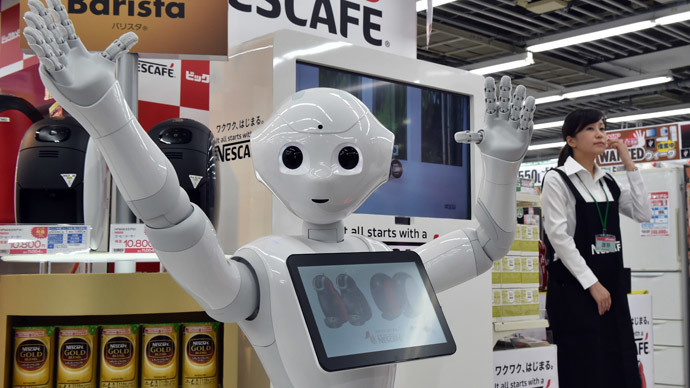 Chatty robots in human form have started selling coffee machines to customers in Japan as of Monday, with their makers claiming that they can understand 80 percent of conversations, along with being able to play games with customers and answer questions.
The robot which debuted at a promotional event on Monday was called Pepper and belonged to Nestle Japan Ltd as part of an innovative new sales technique for its Japanese stores. It has a smiling human face and an interactive tablet mounted on its chest.

"By simply answering my questions, I can tell which coffee machine is perfect for you," the 120cm tall Pepper stated with confidence at the event, held at Bic Camera's Yurakucho store in Tokyo, the Japan Times reported.

It is Pepper's job to welcome customers at electronics stores to answer customers' questions about the coffee machines and aid them in selecting the one that best caters to their needs.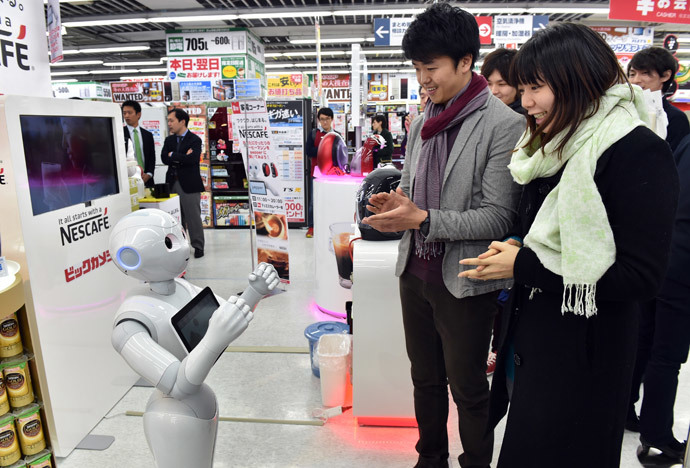 "How do you enjoy coffee? Number one: An eye-opener coffee; Number two: A post-meal cup of coffee," Pepper asked a Japanese TV personality, Kyoko Uchida, at the event.

The robot is able to attempt forms of interaction not solely focused on coffee machine purpose too – and is able to play games with and quiz customers.

Pepper's creators claim that the bot can understand 80 percent of conversation. Currently it is able to converse in Japanese only. However, it is always learning; its makers say that it can develop its abilities through "listening."

Pepper robots started work at four different stores Monday, and in total, around 1,000 will eventually utilize the bot's services.

"We originally introduced Pepper at SoftBank shops so that it can serve customers in ways that we weren't able to before, providing a new type of service," Kenichi Yoshida, vice president of the Business Development Division at SoftBank Robotics Corp told the Japan Times.

Its design was unveiled in June, and it already started selling mobile phones at SoftBank's 74 Japanese stores. The bot will likely go on sale in February 2015.
You can share this story on social media: