Swiss voters reject 'severe' immigration quotas
Swiss citizens voted against a referendum to dramatically slash immigration, in what had been described as an effort to protect the environment from a wave of resource-consuming new arrivals.
Early results by polling agency gfs.bern, published by public broadcaster RTS, showed that 74 percent of Swiss voters turned down the anti-immigration initiative by Ecopop ('ecology' and 'population'). The organization had ambitious plans to cap immigration growth at 0.2 percent of the population, allowing just 16,000 new immigrants to settle in the country annually.
Currently, Switzerland allows 80,000 immigrants into the country annually.
READ MORE:Swiss, French call to bring home gold reserves as Dutch move 122 tons out of US
Foreign-born residents already make up almost 25 percent of Switzerland's 8.2 million people. Ecopop warned that at immigration-driven growth rates of 1.1 -1.4 percent annually, the population could hit 12 million by 2050. This surge in numbers, the association argued, is leading to increased demands on infrastructure as well as urban sprawl, which threatens to spoil the country's famous vistas.
Warnings of the move towards a larger, immigrant-based population, however, did not stir Swiss voters to accept the plan.
Free market proponents had also voiced strong opposition to the initiative, arguing its implementation would harm the Swiss economy.

"It aims to drastically, linearly and arbitrarily reduce immigration to Switzerland, with absolutely no consideration for the needs of the economy," Christian Lüscher, a parliamentarian for the Liberal Party, told AFP.
"You'd have to be completely crazy to wave goodbye to this godsend to our economy," he said.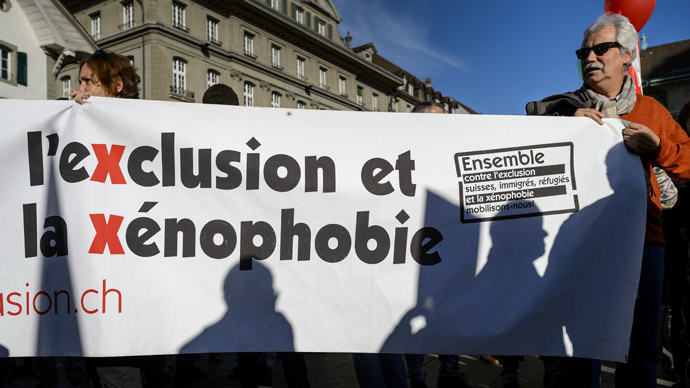 Analysts had been predicting a close vote as Swiss citizens agreed in February to reinstate immigration quotas, thereby placing restrictions on the free movement of people within the 28-state EU.
Ecopop had plans to tackle high immigration rates by devoting 10 percent of Switzerland's foreign aid to family planning in developing countries.
Latest opinion polls indicate a close vote, with many workers and union groups expressing enthusiasm for the plan.
Swiss also rejected plans to eliminate tax breaks for foreigners living but not working in Switzerland. These individuals, according to the plan, would face a spending tax as opposed to income tax. Opponents said the proposal could damage the country's tax haven status.
READ MORE:Swiss freeze: EU retaliates as Bern rolls out immigration quotas
Finally, voters rejected a plan that would have required the Swiss National Bank to boost its gold reserves to at least 20 percent of its holdings, up from the current seven percent. Had it passed, the central bank would have been prohibited from ever selling its gold supply.

Sunday's referendum placed a spotlight on Switzerland's system of direct democracy, which empowers citizens to implement changes through a popular vote, called after an initiative acquires a minimal number of signatures.
You can share this story on social media: