ISIS attack on Kobani comes from Turkey – Kurds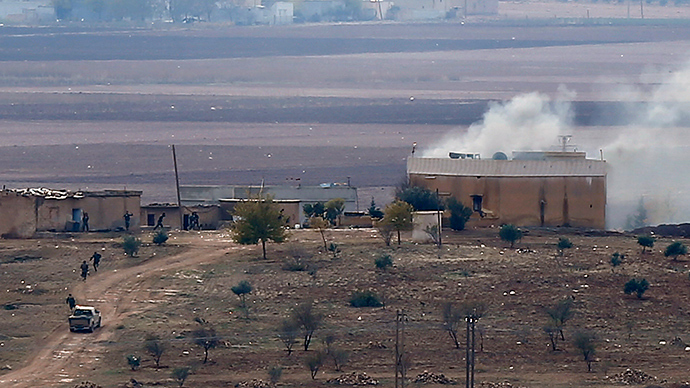 An attack by Islamic State (IS, formerly ISIS) jihadists on the Syrian border town of Kobani has come from Turkish territory for the first time, a Kurdish official said.
IS forces advanced from the Turkish territory to attack the border crossing between Kobani and Turkey, according to Nawaf Khalil, a spokesman for Syria's prominent Kurdish Democratic Union Party.
The Islamic State "used to attack the town from three sides. Today, they are attacking from four sides," Khalil is cited as saying by AP.
The assault began with an armored vehicle suicide attack on the border crossing, the UK-based Syrian Observatory for Human Rights said. Heavy fighting also took place southwest of Kobani, where the IS militants used tanks to reinforce their ground troops.
At least eight Kurdish fighters and 17 jihadists have been killed in recent fighting in area, the London-based observatory added.
Intense fighting between #Kurdish forces and #ISIS in #Kobane on several fronts. pic.twitter.com/sOJbBuYKwS

— Rudaw English (@RudawEnglish) November 29, 2014
Ankara so far hasn't commented on the accusations that the Islamic State launched the assault from the Turkish side of the border.
Since the siege of the Kurdish town of Kobani began in mid-September, Turkey has been reluctant to join the battle against the Islamic State, which even resulted in criticism from Washington.
READ MORE:Kids' crusade: ISIS abducting & indoctrinating children – UN
Ankara refrains from aiding those defending the border town, due to fears the increased Kurdish military might boost their ambitions for an independent state.
The Kurds have no country of their own, with the Kurdistan region spanning adjacent parts of Iran, Iraq, Syria, and Turkey.
Turkish President Recep Tayyip Erdogan also used to back the Islamist rebels fighting to topple his Syrian counterpart and strategic rival, Bashar Assad.
Earlier, in an interview with RT's Arabic channel, Syrian Foreign Minister Walid Muallem blamed Ankara for IS forces growing stronger despite the US-led airstrikes.
READ MORE:Syria: US-led strikes failed to weaken ISIS
"The Islamic State is getting stronger and stronger day by day… The reason for that is simple – despite being an ally to the US, Turkey doesn't comply with UN Security Council resolutions on blocking terrorists' supply channels," Muallem said.
"According to the UN, over 1,000 terrorists from 80 countries are crossing Turkish-Syrian border crossing in the direction of Syria every month," he added.
You can share this story on social media: