African king who rules his people by Skype has 'four crowns stolen'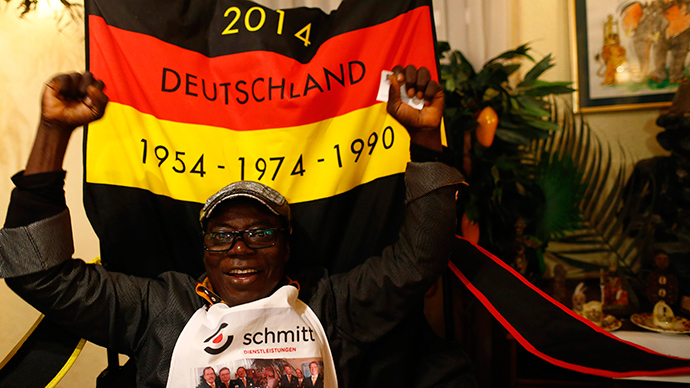 A king of an African tribe, who rules his people via Skype, e-mail and phone from Germany, has been the victim of burglary. The thieves reportedly managed to steal four crowns.
King Togbe Ngoryifia Cephas Kosi Bansah, 66, who rules an area in southeastern Ghana, came home with his German wife, Gabriele, to find out his house had been ransacked.
The thieves took almost all his royal regalia, including crowns and golden chains, from his house in Ludwigshafen.
"Thieves had come [sic] over the balcony on the first floor, prised the door open, smashed the cabinets and ransacked everything," Cephas Bansah told the UK's Times newspaper.
The stolen items are several hundred years old and irreplaceable. Their value was put at about €20,000 (£15,900).
Céphas Kosi Bansah, King of Hohoe, Gbi Traditional Ghana and I at UberCloud, Dmexco. Cologne, Germany, 9/20/11. pic.twitter.com/1CjHCVg6

— Irene Macabante (@msmacabante) September 28, 2011
While residing in Germany, King Bansah rules his 200,000 plus people via Skype, e-mail, tax and phone. He fell in love with Germany while learning mechanics during a student exchange program back in 1970.
His grandfather, the reigning king, died in 1987 and Cephas Bansah became the new king. His father and elder brother were deemed "unfit" to rule as both were left-handed, which is seen unclean. The coronation ceremony took place in 1992, but his lifestyle didn't change – he remained in Germany.
Céphas Bansah hasta las 18hs es mecánico en Alemania.Después,soberano de 300mil personas en la región de Hohoe-África pic.twitter.com/USuKiktB4O

— Algo Ha Fallado (@AlgoHaFallado) June 8, 2014
Bansah is a minor celebrity in the Rheinland-Pfalz region, where he is an entertainer and musician, and takes part in charitable projects.
He makes half a dozen trips to his kingdom every year, but spends several hours a night on Skype discussing tribal policies.
Groepsfoto in studio Blokken met redactie #scheireendeschepping en King Céphas Bansah. Vriend van de Scheire! #sedspic.twitter.com/tqHMNKlbcv

— Team Yannick (@TeamYannick) March 13, 2014
curioso personaje que acabo de encontrar: Cephas Bansah, mecánico de día en alemania y rey de noche (por skype) pic.twitter.com/pUdSlU0rlB

— Jesús Luengo (@suenhamburg) February 6, 2014
Photo: Gold. Togbe Ngoryifia Céphas Kosi Bansah of Hohoe, Ghana. ferrarisheppard: King Bansah of Ghana. http://t.co/5AjgdM8y7M

— MARIAN KIHOGO (@marian_kihogo) June 16, 2013
You can share this story on social media: