Pancakes for jihadists: ISIS shares new online cooking tips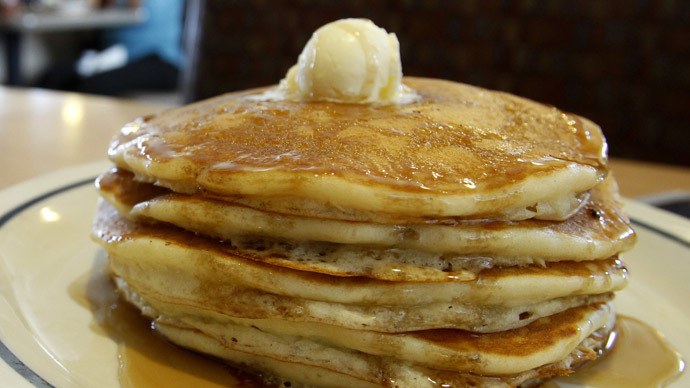 An Islamic State-run campaign targeting women has released its second recipe online, explaining how to keep jihadists happy and fulfilled by making pancakes after a day of fighting.
Al-Zawra is an online propaganda campaign that was launched in October. It aims to convert women to the cause of the Islamic State (IS, ISIS) by defining their role in day-to-day jihadist life.
The campaign embraces various media platforms – including Facebook, Twitter, and YouTube – to get its message across.
#ISIS launches "al-Zawra'a for Media Production" devoted for Mojahidat "wives & female relatives of #ISIS fighters" pic.twitter.com/CpoQ9FjHJc

— Zaid Benjamin (@zaidbenjamin) October 31, 2014
ISIS is presenting the campaign as an institute for women, designed to "prepare sisters for the battlefields for jihad" and to support Islamic State fighters, Vocativ cited the group's mission statement as saying.
The latest update from Al-Zawra published a step-by-step method of preparing jihadist-style pancakes. The precise instructions are accompanied by pictures.
The ingredients include: one egg, four tablespoons of sugar, one tablespoon of oil, 4 teaspoons of salt, one cup of milk, and one cup of flour.
Or any jihadi on a lazy Sunday MT @El_Grillo1: ISIS Issues Pancakes Recipe http://t.co/5VFzGFEfTh what every aspiring Jihadi wife must know

— Aki Peritz (@AkiPeritz) November 28, 2014
The recipe is quite strict in terms of how to serve the dish, specifying that it goes with honey and can be eaten for breakfast or dinner.
Earlier in November, Al-Zawra published its first ever recipe for women attending to jihadist men who are fighting in Syria and Iraq: "balls of date mush."
Aside from publishing recipes, the campaign teaches women how to sew and stay fit. It also urges the importance of cooking. "You are going to cook for Allah's soldiers," Al-Zawra said.
The campaign has proved somewhat successful. In October, the FBI confirmed that three American teenage girls had allegedly attempted to travel to Syria to join the Islamic State. They were discovered in Frankfurt, Germany after their parents reported them missing.
"FBI Denver Division is aware of the situation and assisted with bringing the individuals back to Denver," the International Business Times quoted a spokeswoman for the FBI, Suzie Payne, as saying. "The juveniles are safe and reunited with their families."
You can share this story on social media: