Hi-tech gear stolen from Russia's Mistral warship in France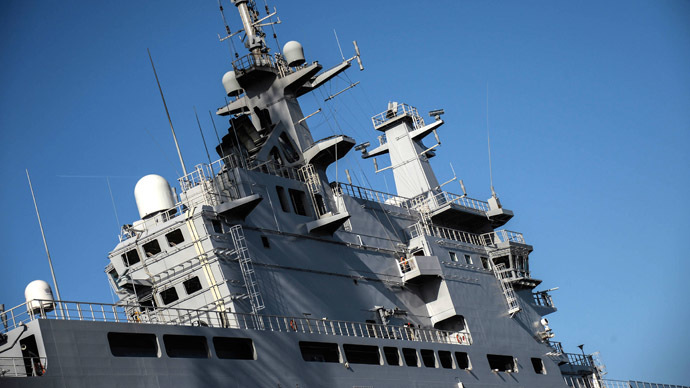 Electronic equipment, including hard drives and a device operating the helicopter carrier's communications system, has been stolen off the Mistral ship built for Russia in the French port of Saint-Nazaire.
An investigation into the case of the missing equipment has been launched, French media reported. "Sensitive material" could allegedly be stolen from one of the amphibious-assault vessels, constructed by the French in a multi-million dollar deal with Moscow.
READ MORE: Delay in 'Mistral' deliveries causing France 'significant cost' - reports
The items, which were announced missing on November 25, could have been stolen a week prior to that date, the prosecutor's office of the French city of Rennes reported.
According to AFP, two computer hard drives, a motherboard, and a graphics card – as well as a device with a program operating the carrier's communications system – have disappeared from the ship.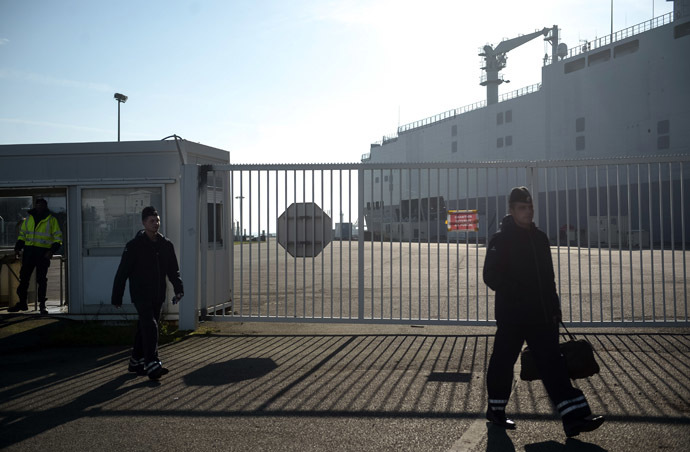 All the equipment was installed by French military electronics firm Thales, and could only be operated on the helicopter carrier.
READ MORE: 'Buy the set!': Mistral warships go 'on sale' in Russian & French spoof ads
A spokesman for French shipbuilder DCNS, Emmanuel Godez, confirmed the theft to TASS news agency, but said the unique articles – which he refused to name – did not contain any secret or sensitive data.
French ship builders STX, who are in charge of the Russian-ordered Mistral ship's construction, also confirmed that some items went missing. The company said a relevant statement had been submitted by the corporation to French police.
According to Le Point magazine, a preliminary investigation did not find any evidence of a break-in. Russians are reportedly not suspected to be behind the theft, a spokesperson from France's Defense Ministry said.
You can share this story on social media: