Same-sex marriages get green light from Finland's MPs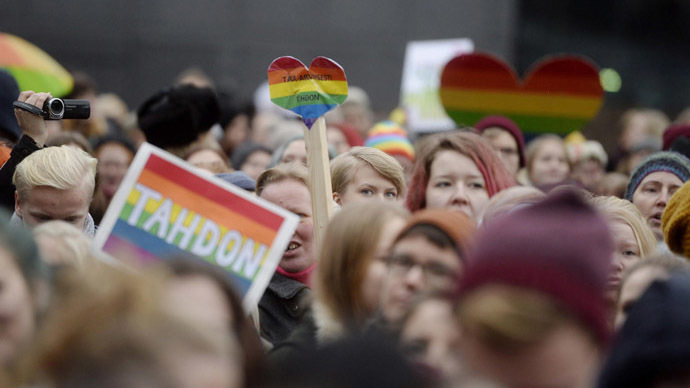 The Finnish parliament has approved "gender-neutral" unions by a narrow margin, bringing it in line with other Nordic nations and becoming the 12th European nation to do so.
The law will give homosexual marriages in Finland the same rights as heterosexual ones, with couples being allowed to share a surname and adopt children.
The vote margin of 105 to 92, with one MP absent, was expected to be even closer.
"Finland should strive to become a society where discrimination does not exist, human rights are respected and two adults can marry regardless of their sexual orientation," said Alexander Stubb, the center-right prime minister, in an open letter before the vote.
READ MORE: Britain's House of Commons votes to legalize gay marriage in England, Wales
But opponents to the law argued that children have the right to a father and a mother.
"This is a question of the future of our children and the whole of society, and such changes should not be made without thorough evaluation of their impact," said Mika Niikko of the nationalist Finns party before the vote.
BREAKING: #MarriageEquality becomes law in #Finland! http://t.co/yRKr44IMYx#NOH8Worldwide#LGBT#LoveIsLovepic.twitter.com/VFsODR9si1

— NOH8 Campaign (@NOH8Campaign) November 28, 2014
The result was a triumph for supporters of marriage equality who gathered around the parliament in Helsinki on Friday afternoon, as the results of the vote were released. Shouts of "I do" were heard as they waved rainbow colored flags.
#Finland passes the freedom to marry! RT to celebrate http://t.co/ckY4xswfS9#marriagepic.twitter.com/YtKE3IkT7s

— freedomtomarry (@freedomtomarry) November 28, 2014
There was also a much smaller group of opponents who had turned up, although there were no reports of violence or disruptive behavior, and local media described it as a carnival type atmosphere.
The law will force a number of changes to other legislation, which will take a long time to finalize and is not expected to take effect until 2016 at the earliest.
You can share this story on social media: