'No to human zoos:' Protesters cause havoc at Paris 'anti-Apartheid' show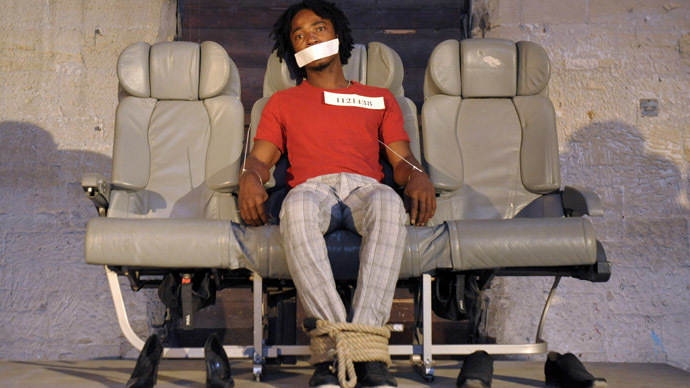 A performance art exhibition in Paris about the horrors of Apartheid, colonialism and extreme racism has backfired on its organizers. Over 100 protesters attempted to overrun the venue and stop the show.
Called Exhibit B, it's the brain child of South African director Brett Bailey and was inspired by the "human zoo" exhibits of the late nineteenth and early twentieth centuries.
Europeans and Americans flocked to the so-called human zoos where members of African tribes, such as the pygmy Ota Benga, had to pose like animals in a cage in native dress.
But Exhibit B, so-called perhaps as a nod to the dehumanizing nature of the original human zoo, goes deeper than that and shows a woman from Namibia called Herero, who was forced to decapitate the heads of her fellow prisoners. She was then obliged to scrape the skulls clean with shards of glass for German scientific experiments.
Tensions devant le théâtre Gérard Philipe, "A bas les zoos humains" scandent les manifestants anti #ExhibitBpic.twitter.com/WaziE7bK9u

— La1ere.fr (@la1ere) November 27, 2014
The performance also looks at atrocities committed by colonial forces in the French and Belgian Congo and the more recent horrors of Apartheid in South Africa.
READ MORE: 'Human zoo' project in Norway sparks racism row
However, the idea didn't impress some Parisians, as dozens blocked the entrance to the Gérard Philipe theater holding signs, such as "No to human zoos in 2014."
"Protesters at the premiere of Exhibit B in St Denis Paris smashed through the theater doors tonight. Set off fire alarms. Trying to stop us," wrote Bailey on his Facebook page.
#contreexhibitb manif contre exhibit b devant le théâtre Gérard Philipe pic.twitter.com/v5t1ey2Ek9

— xoxo (@parachuuut) November 27, 2014
After a barricade was overturned and a window was shattered, the show had to be stopped. Only two performances could take place.
But Bailey said that anger over the installation displayed a grave misunderstanding about what the "deeply emotional" work is about.
"As they move through the exhibit, we watch them and witness anger, grief, pity, sadness, compassion. Above all we witness a dawning of awareness. This is why we keep doing this, and would keep on doing it, if we could," the performers said in statement in defense of the show earlier this year.
It is not the first time the show has run into trouble. In September, it was forced to cancel a performance at the Barbican in London, when the opening night was stormed by protesters after a petition against the show had managed to garner 23,000 signatures.
READ MORE: 'Complicit racism': Protests close 'human zoo' show with black actors
Bailey believes some of the objections are because "a white South African is telling a story about racism," he told AFP.
"My performances are full of fire. My team is full of fire… Rage, rage against the dying of the light. The show will go on," Bailey said on Facebook.
FRANCE I Annulation du spectacle-choc « Exhibit B » de Brett Bailey au Théâtre Gérard-Philipe http://t.co/DqTIBvvcwcpic.twitter.com/zkQuguIp1v

— Pierre Chantelois (@RenaudLeroy2) November 28, 2014
But an appeal, which has already been signed by 14,000 Parisians, says the show is about "the racism of a white South African."
"It is all the more shocking that the possibilities for black artists to present their work in these prestigious cultural centers are extremely limited," it read.
This view appeared to be backed up by CRAN, France's black community rights group, although they are not pushing for the show to be stopped.
While "It might well be well-intentioned it reinforces stereotypes. It shows black people as passive and as victims. It never shows the struggle by black people for their own emancipation," CRAN president Louis-Georges Tin told The Local.
The show has supporters as well as detractors. In France it has the support of the League of Human Rights, the Paris mayor and Culture Minister Fleur Pellerin, who condemned the storming of the theatre as "attempts at intimidation and censorship."