'Mexico has to change': Pena Nieto pledges reform after 43 students 'massacred'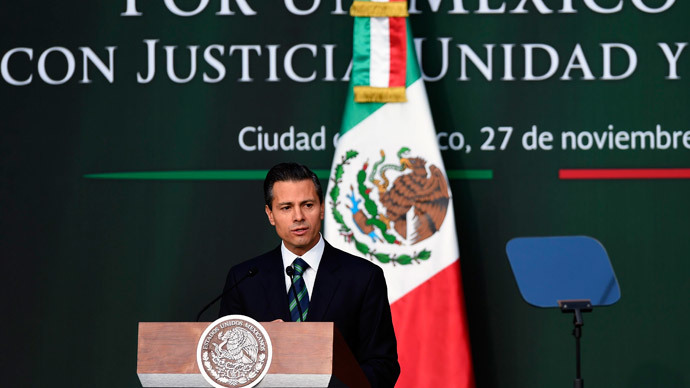 Mexican President Enrique Peña Nieto said he will introduce constitutional reform after 43 trainee teachers were allegedly handed by police to a drug gang and then brutally murdered. He pledged to bring corrupt local authorities under the "rule of law."
READ MORE: More mass graves unearthed in search for missing Mexican students
"Mexico cannot continue like this," Peña Nieto said in his Thursday speech to political leaders. "After Iguala, Mexico has to change," he said, referring to the alleged murder of students in the southwestern city of Iguala on September 26.

The president came forward with a 10-point plan on reforming local authorities, who are often ill-controlled in the country's municipalities. It is aimed at stopping the collusion between local governments, police, and gangs. The plan involves redefining powers in the penal code and adopting a special crime-battling law.

Admitting that the Iguala tragedy has uncovered "institutional weakness," Peña Nieto proposed to empower the central government to dissolve local authorities involved in organized crime, and give state authorities control over municipal police, which are often viewed as corrupt and suspected of covering drug trafficking.

The measures, called to "strengthen the rule of law," propose to standardize police training and bring forward a unified state police. Moreover, the plan promises instruments to provide security and protect human rights, as well as combat corruption.
The first four Mexican states to implement the reform would be the country's most troubled Guerrero, Michoacan, Jalisco, and Tamaulipas. The so-called "hot land" region including the first two of those states will be provided with additional security forces and federal police units.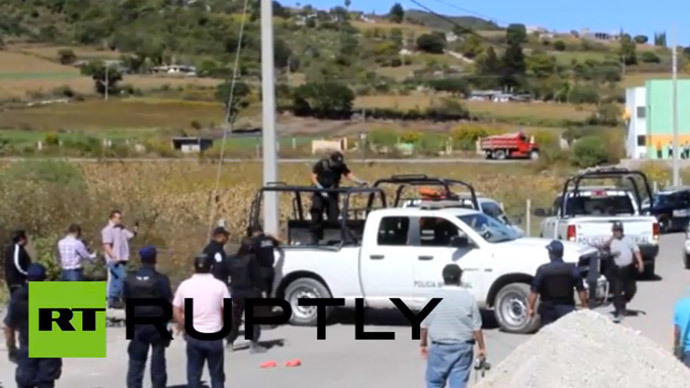 Peña Nieto also said that Mexico would look to introduce a single telephone number to contact emergency services – with 911 being the suggested option.

President Peña Nieto has come under significant pressure from protesters to take steps to make security forces more transparent and less brutal in the wake of the 43 trainee teachers being allegedly abducted by corrupt police in Iguala.
The government says the teachers were handed over to a drug gang by corrupt officials who then massacred them before burning their bodies.
READ MORE: 43 Mexican students likely 'burned to ashes by gang': Grisly details of mass murder
There is currently no nationwide police force in Mexico; instead, there are hundreds of law enforcement bodies dotted throughout the country. Each of the 2,438 municipalities and 31 states have their own, along with the country's capital, Mexico City.

Corruption is also a problem, as police are paid low salaries – sometimes as little as $370 per month – which leaves them open to colluding with corrupt officials and gangs.

Trying to introduce police reforms is nothing new to the country, which has suffered severe crime problems and sees only around two percent of offenses resulting in convictions.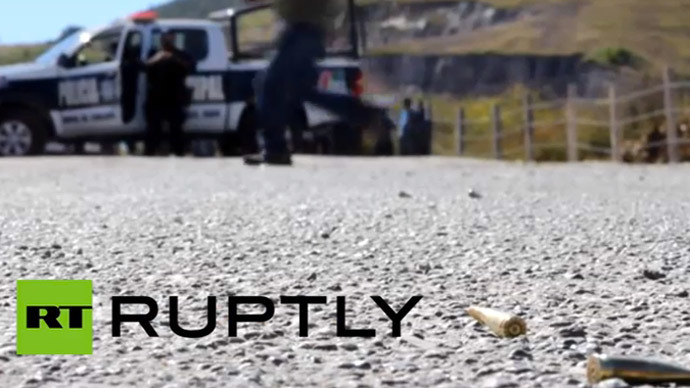 The Mexican president said he will try to increase economic growth in areas of the country which are particularly troubled, such as the southwest.

"Today there are two Mexicos: One that is part of the global economy with growing levels of income, development and well-being; and then there is a poorer Mexico with historical problems that have been unresolved for generations," Peña Nieto said.
Highlighting the need for sweeping local reform in Mexico are allegations that the mayor of Iguala, Jose Luis Abarca, collaborated with a local drug gang and ordered the detention of the students by local police.

On Thursday, 11 mostly decapitated bodies were found on a road near the Guerrero city of Chilapa, not far from the rural college attended by the missing students. The state's government said the victims had been shot to death, adding that their heads were not found.

According to AP, a handwritten banner hung near the scene suggesting that those killed were part of the "Ardillos" gang. The sign, which could have been put up by a rival gang, read "Here is your garbage."

Meanwhile, the search for the missing students continues, with Mexican activists reportedly unearthing up to 10 new mass graves on Sunday.
You can share this story on social media: