Flying robots to work as waiters in Singapore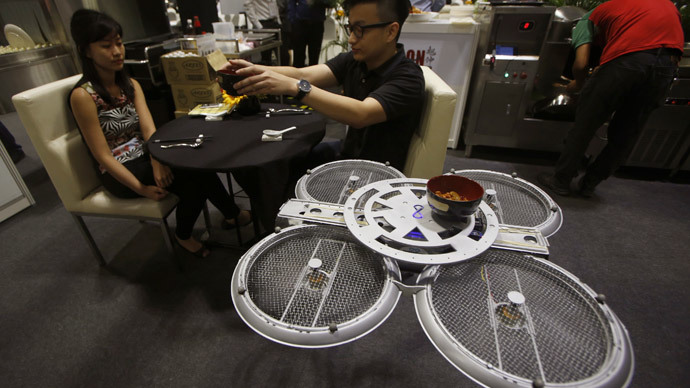 Flying robotic waiters, known as Infinium-Serve, will be launched in a Singapore restaurant chain by the end of 2015, local media reported on Thursday.
In what is believed to be the world's first commercial attempt at replacing humans with machines in this field, Timbre Group plans to have robots waiting tables by the end of next year, Channel News Asia reported.
Infinium Robotics and Timbre Group – one of Singapore's most popular restaurant chains – signed a memorandum of understanding on October 31 to launch the robots in five outlets.
They are looking for productivity-related government grants to help offset development costs, which are estimated to be a "low seven-figure sum," according to Woon Junyang, chief executive officer at Infinium Robotics.
Woon said he believes that replacing waiters and waitresses with robots would help alleviate Singapore's labor crunch and allow human waiters to focus on more interesting higher value tasks, such as getting feedback from customers and ordering wine.
"This will result in an enhanced dining experience which will eventually lead to increased sales and revenue for the restaurants," he said.
Singapore has been facing a labor shortage, particularly in the service sector, due to ever stricter restrictions on the number of foreign workers allowed into the island state in recent years.
Infinium showed off a prototype of the flying robot to Prime Minister Lee Hsien Loong at the inaugural launch of National Productivity Month in early October.
You can share this story on social media: