Largest Japanese active volcano spews ash and rocks, disrupts flights (PHOTOS, VIDEO)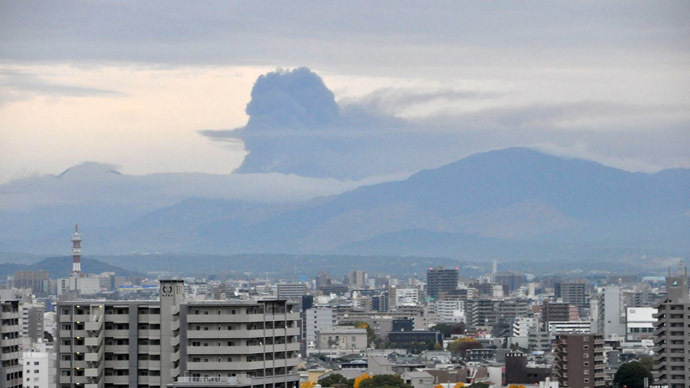 Dozens of flights were disrupted in Japan on Thursday as Mount Aso, the largest active volcano in the country, spewed ash and stones. This comes just two months after more than 60 were killed in the Mount Ontake eruption.
Japanese airlines were forced to cancel 49 flights as Mount Aso, which dominates the south-west Japanese island of Kyushu, spewed stones and ash, the local Jiji news agency reported on Thursday.
阿蘇山噴火しよるば〜い pic.twitter.com/sqAfrHUWpb

— 努(ユメ) (@eidai_aya) November 27, 2014
"Today we canceled eight flights departing from Kumamoto and four flights arriving there," a Japan Airlines spokesman told AFP. "There was also one flight which changed destination to a nearby airport," he added.
#mountaso#volcanopic.twitter.com/gGJX1V096G

— Understrapper (@Understrapper) November 26, 2014
The massive volcano, one of the largest active ones in the world, started rumbling on Tuesday, while the next day it sent a stream of ash 1,000 meters into the air, local media reported citing Japan's meteorologists.
Japanese media also said volcanic ash fell on Bungo-Ono, in Oita Prefecture, and the town of Gokase, in Miyazaki Prefecture, about 40 km from the volcano.
Somewhere behind that cloud of ash is #MountAso, the largest active volcano in Japan. Today, she's VERY active. #ttotpic.twitter.com/VMmfOGUkPT

— Chris Leadbeater (@LeadbeaterChris) November 26, 2014
Rocks flew 200 meters high from belching Mount Aso on Thursday, while meteorologists warned that flying rocks and ash could hit within a 1 km radius from the volcano. Local Asahi Shimbun reported that it was the first time the volcano had spewed rocks since 1995.
On Wednesday, Japan's meteorological agency issued a warning – a level 2 alert out of 5 - to residents around the volcano in Kumamoto Prefecture. The second alert level restricts approach the volcano to no nearer than 1 km.
みんなが思っとる以上に、阿蘇山ヤバイことなっとるよ〽️ 火山灰…やおいかん。 pic.twitter.com/GUhfdUQYUt

— ちやんきー (@ChiYankee_2) November 27, 2014
The meteorological agency's Fukuoka Regional Headquarters reported slight distortions in the shape of Mount Aso, which indicate that magma was possibly involved in the latest eruption, according to Asahi Shimbun. Magmatic eruptions are characterized by gas release and explosions.
夜の阿蘇山 pic.twitter.com/0WAXhbMvCc

— ⇝ R I O (@mkmeca) November 27, 2014
阿蘇山やばいね これ拾い画だけど pic.twitter.com/i3VX45yOsu

— りさっちーるはゲス余韻なううう (@risaa_wimper) November 27, 2014
Mount Aso's activity comes just weeks after 60 people were killed in Mount Ontake unexpected eruption in September. This forced a revaluation of volcanic activity risks and the possibility of its prediction. Questions have also arisen over whether Mount Fuji - the highest and most famous mountain in Japan, which was last active in 1707–08 – could erupt.
READ MORE: Enormous volcanic eruption could destroy Japan within 100yrs – study
Tuesday's eruption at Mount Aso, southern Japan, sent column of smoke rising 1,000 meters into sky. via @NHK, @Asahipic.twitter.com/PxILhfLL9N

— Mitsuru Obe (@mit_obe) November 26, 2014
The stratovolcano's activity would not only threaten those in the adjacent Shizuoka and Yamanashi prefectures, but also the highly populated Japanese capital, meteorologists said.
Recent research conducted by Japanese scientists and released by Kobe University in October said that about 95 percent of Japan's population is at risk of being devastated by a major volcanic eruption, which could happen "at any moment" within the next century.
"It is not an overstatement to say that a colossal volcanic eruption would leave Japan extinct as a country," the authors of the study said, according to AFP.
READ MORE: Active volcanoes near Japan nuclear reactor are safety threat – panel