Wireless: French phone-tapping services go on strike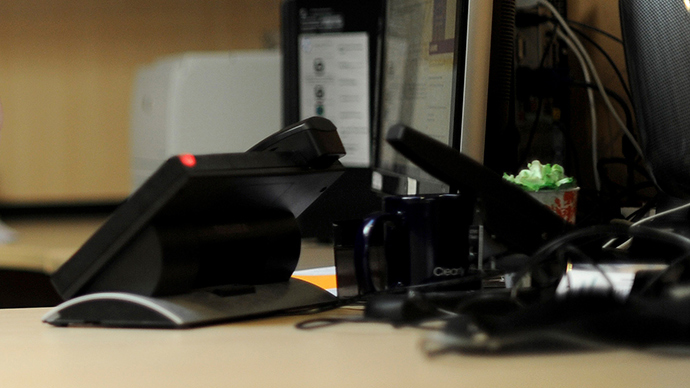 Four French companies executing the bulk of court-sanctioned electronic surveillance have refused all new requests. They are accusing the country's justice ministry of depriving them of lucrative future spying contracts.
The Ministry of Justice said it will ask prosecutors to "routinely sue companies that refuse to provide the services for which they were required." It has also threatened €750 fines for each unfulfilled order.

Foretec, Midi System, SGME and Elektron executed 88 percent of 650,000 requisitions ordered by judges in 2012, according to Le Monde. Meanwhile, the market is constantly growing. It increased by 44 percent in six years and cost the state nearly €45 million in 2013.

The four companies' business cooperation with the Justice Ministry will be over when France launches its National Platform for Judicial Interceptions (PNIJ) electronic surveillance center, France 24 reported.
RT @EmmanuelDaoud: Les sociétés spécialisées tentent de pallier la carence du #Pnij#écoutes#justicepic.twitter.com/48nkjxza6C

— Confluences Pénales (@ConfluencesP) November 24, 2014

In 2010, the PNIJ contract was given to the French multinational company Thales, partially owned by the state. When it goes online, it is predicted to become the biggest electronic surveillance agency in Europe. Its launch has been subject to constant delays, however. As a result, the Justice Ministry has had to rely on the four smaller companies managing millions of court-ordered taps on phone calls and internet activity.

Knowing that their government contracts are about to expire, the companies engaged in a legal dispute with the justice ministry over compensation for being excluded from the PNIJ tendering process.

At midnight on Monday, they said enough is enough and refused to take up any new court orders.

"It's the only tactic available to the ministry, but it won't work," Foretec CEO Thierry Pugnet told FRANCE 24. "From the very beginning of our negotiations the Justice Ministry has said it understands our situation and has promised that a solution would be found. It makes promises, but delivers nothing," he added.

While new court orders for phone taps on suspects currently go un-monitored, the rebellious wire-tappers say the uncertainty is killing them.

"Without having a plan for our future, no bank is going to offer us credit," SGME CEO Hélène Girard told FRANCE 24. "We are at the mercy of the Justice Ministry."
You can share this story on social media: