'Canaries not for sale!' Islanders protest oil drilling (VIDEO)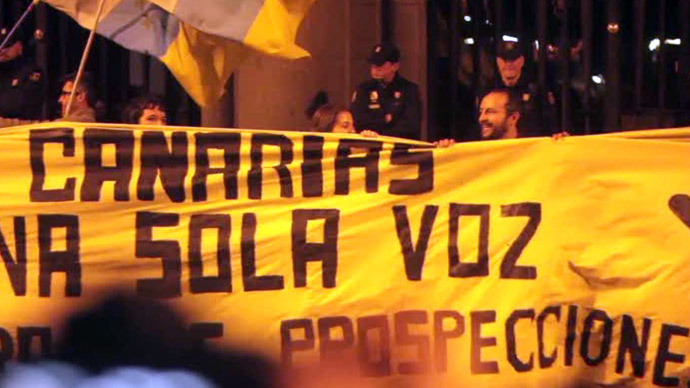 Hundreds of people have protested against oil drilling by Spanish oil giant Repsol, in Spain's Canary Islands. The islanders' protest follows previous Greenpeace's actions stopped by the Spanish Navy.
Protesters gathered in front of Gran Canaria's government delegation building waving banners and chanting "Canaries, not for sale". They are opposed to exploratory drilling on an oil platform around 50 km off the island's coast. An organizer from 'Coordinate Canaria Against Surveys' said that despite drilling having begun, protesters would "continue to fight."
Simultaneous protests also took place across the Canary Islands, coinciding with a public ballot over the issue, which Spanish Industry Minister Jose Manuel Soria has defended.
Earlier, Paulino Rivera, the president of the government of the Canary Islands, an autonomous region of Spain, said drilling in coastal waters was aggression and against the interests of the majority of the population. He also warned central authorities about a possible rebellion by local people against the drilling.
READ MORE: Spanish navy rammed Greenpeace boat to prevent "piracy," Defense Ministry says
The project's opponents say it will harm the environment and damage the region's tourism industry.
Environmentalist Marta Golding told RT: "That's a serious harm to our economy and to our employment because in the Canaries we live from the tourism."
According to Golding, the Repsol oil company has its own employees and won't create jobs in the future. The Canary Islands has different kinds of renewal energy programs like wave, wind and sun energy, but oil exploration will diminish their use.
"We want the central Spanish government to go back to supporting renewal energies," Golding added. "Oil drilling is a step back instead of going towards the future."
The local authorities sought to hold a referendum, but the idea was rejected by Madrid as unconstitutional.