'Against nature': Erdogan's gender inequality comments at women's rights conference spark outrage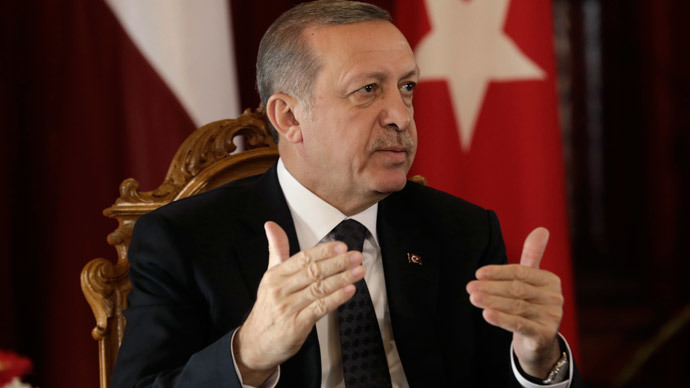 Turkey's president says men and women cannot be equal, and that feminists don't understand motherhood. Recep Tayyip Erdogan caused widespread offence with his comments at a conference on women's rights in Ankara.
"You cannot make women and men equal; this is against nature," Erdogan stated on Monday.
"You cannot subject a pregnant woman to the same working conditions as a man. You cannot make a mother who has to breastfeed her child equal to a man. You cannot make women do everything men do like the communist regimes did… This is against her delicate nature," he added.
He added that feminists "don't accept the concept of motherhood."
"But those who do understand are enough for us. We'll continue down this path with them," he stated.
Commentators on social media have aired incredulity over his comments, with one user tagging them #NatoEmbarrassment and another referring to him as "Turkey's creepy-grandpa-in-chief."
Erdogan as Turkey's creepy-grandpa-in-chief: "You can't make a mother who has to breastfeed her child equal to a man" http://t.co/z9WguOJVYc

— Mike Giglio (@mike_giglio) November 24, 2014
Another observed that it proved "secularism is dead in Turkey."
#Erdogan said today that "religion has upheld status for women", which proves that secularism is dead in Turkey. Islam determines politics.

— ★Kassandra (@Kassandra_Troy) November 24, 2014
Ataturk must be rolling in his grave at what Erdogan has to say about women's role in society #Turkey#Ankara

— Karachi_Post (@Karachi_Post) November 24, 2014
"Our religion has given women a station: the station of motherhood," Erdogan stated, also citing a hadith of the Prophet Mohammed that says "Heaven lies at the foot of your mother," and adding that he used to kiss his mother's feet because of it.
Erdogan saying some jaw dropping stuff about his position against gender equality today: "In our religion women have been given a duty."

— Alex Christie-Miller (@AChristieMiller) November 24, 2014
Renewing his hateful fight w women #Turkey's Erdogan again insists women & men not equal, defines women as mothers http://t.co/FTS5y8rOWM

— Emma Sinclair-Webb (@esinclairwebb) November 24, 2014
A conference attendee was forced out of the hall after interrupting a speech by Family and Social Policies Minister Ayşenur İsla. She insisted on putting her question to the minister as he made his speech rather than waiting until the end, after which she was removed by security guards.
READ MORE: No joke: Turkish women shouldn't laugh, says deputy PM
Erdogan's statement's on women's right and gender equality are often met with criticism by local feminist groups. In April this year, he said that he does not "believe in equality between men and women," which also triggered condemnation.
This August the president also drew ire by saying that every woman in Turkey should have at least three children. He proposed limiting abortion rights and the use of morning-after pill.
In one recent case, Erdogan called a prominent female journalist a "shameless woman" and told her "to know your place."
You can share this story on social media: