Ice hockey legend, father of Soviet Red Machine, dies at 84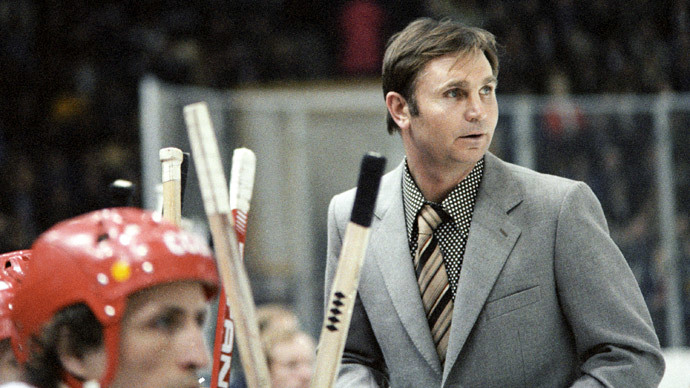 Legendary ice hockey player and coach Viktor Tikhonov has died at the age of 84. The founder of famous Red Machine - the invincible Soviet hockey team - he brought his country dozens of gold medals, including three Olympic ones.
Tikhonov passed away on Monday in Moscow hospital after a heart attack.

He started his sporting career as a defenseman, but real success came to him during his coaching career.

It was under Tikhonov's lead that the Soviet ice hockey team got its name 'the Red Machine', a name feared by the entire hockey world.
Soviet coaching legend Viktor Tikhonov died in Moscow at the age of 84. RIP, Viktor Vasilyevich... pic.twitter.com/wNIihmJQw5

— KHL_Hockey (@KHL_hockey) November 24, 2014
As a coach he lifted the Soviet Union team to three gold medals in Olympic Games: 1984 (Sarajevo, Yugoslavia), 1988 (Calgary, Alberta) and 1992 (Albertville, France). He was also behind the coaching bench when his team lost to US squad in Lake Placid, US in their ice fight for gold.

His squad also won World championships eight times, were the winners of 1979 Challenge Cup and 1981 Canada Cup, and he claimed 13 consecutive Soviet titles with club team CSKA Moscow between the years 1978-1990.
All hockey world mourns as the legendary coach Viktor Tikhonov passes away. R.I.P.

— KHL_Hockey (@KHL_hockey) November 24, 2014
The president of the Russian Hockey Federation, Vladislav Tretyak, said that a tournament should be established in Tikhonov's name.

"People like Viktor Tikhonov, should never be forgotten. This is our history, and if we forget our past what can be said? Viktor's name is forever inscribed in the history of Soviet and Russian hockey. We must cherish that name," he told R-Sport.
Tikhonov "devoted himself entirely to hockey; he thought about it and worked on it 24 hours a day. He was a wonderful person and it is a great pity that he is no longer with us," said Boris Mayorov, vice-president of the Russian Hockey Federation, who played under Tikhonov's leadership in the late '70s.
"His name will always be associated with the 'Red Machine'. This is a great loss for hockey and for all sports. He always thought of the young, went to meet children's team and tried to teach them better. It is very sad that he has left us."

Viktor's grandson also named Viktor Tikhonov, won 2014 IIHF World Championship in Minsk, defeating Finland.

All games of KHL (Kontinental Hockey League) will be preceded with a minute's silence in tribute to Tikhonov.

The players of his old club CSKA (Central Sports Club of the Army) and SKA (Sports Club of the Army) will be wearing black armbands for their game in Moscow on Monday night.