Far-right Spaniards mark anniversary of General Franco's death (VIDEO, PHOTOS)
Published time: 23 Nov, 2014 19:21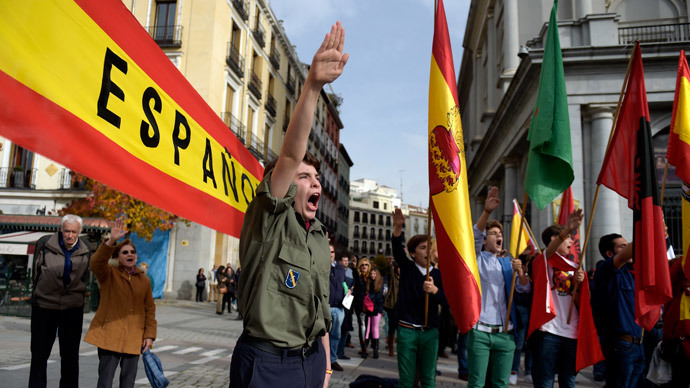 Hundreds of far-right activists gathered in Madrid center to commemorate the anniversary of the death of General Franco. Fascist symbols were seen at the rally which praised the late dictator.
Around 300 far-right activists gathered on Orient Square in Central Madrid on Sunday to commemorate the 39th anniversary of the death of the fascist dictator and Falange party's leader Francisco Franco. The general died on November 20, 1975.
Organized by several far-right political parties and nationalist organizations including Nudo Patriota Espanol, Movimiento Catolico Espanol and Patriotas, the event also marked the anniversary of the death of Jose Primo de Rivera, the founder of Falange Espanola who was executed by the Spanish republican government on November 20, 1936. Falange Espanola, created in 1933, was a nationalist party inspired by Italian fascism.
During the rally, officials from the different parties gave speeches about the current situation in the country, targeting the rise of leftist political party Podemos as a cause for concern. Swastikas and other fascist symbolism were on display, including one attendee waving the flag of the Italian Social Republic. Some participants had posters reading messages dismissive of the idea Catalonian independence and derogatory terms reserved for its leader Artur Mas.
A day before, on Saturday, hundreds of anti-fascist protesters took to the streets of Madrid ahead of a Falangist rally. The black-clad demonstrators moved from Plaza de Espana to Plaza de Moncloa in the centre of the city, with many carrying communist flags, banners reading: "Under one front: unite, organize and fight" and chanting anti-fascist slogans.
The far-right, pro-Franco demonstration took place at 21:00 local time on Saturday. Around 300 protesters marched to mark the anniversary of the deaths of Franco and Primo de Rivera. Protesters, who performed the Roman Salute, marched from de Rivera's place of birth (Calle de Genova) to Madrid's Plaza de Moncloa firing red flares. Many marchers wore Falangist uniform - a blue shirt with the embroidered design of a yoke and a backdrop of five vertical arrows as a symbol of Spain's unity and sang "Cara al Sol" (Face to the Sun), the Falangist anthem. The march then concluded at the Valle de los Caidos (Valley of the Fallen) where both de Rivera and General Francisco Franco are buried.
Francisco Franco was a general who became the head of the state after the civil war in 1939. He received support from fascist party and implied repressive regime. He died in 1975 leaving the king Juan Carlos as his successor who led Spain through democratic reforms to its current political system.