Hacked from 'US servers': Ecuador leader claims attacks on his private computer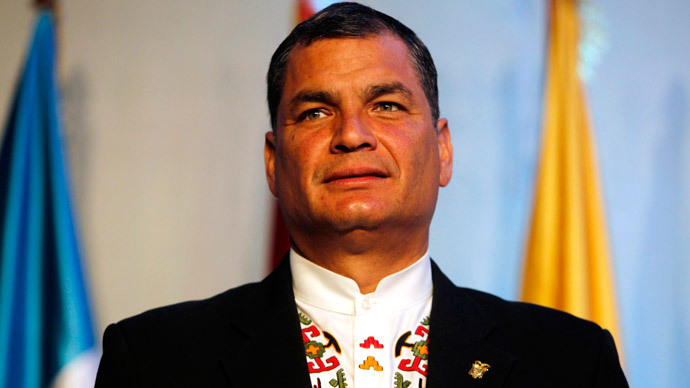 Ecuadorean President Rafael Correa has accused the US of "systematic, high-tech" cyber-attacks on his private internet accounts and computers, the last of which was traced back to American servers last Thursday.
He outlines his accusations in a scathing Twitter post and later comments to the Latin American press.
In the Friday post, Correa denounced what he sees as "systematic, high-tech and high-resource attacks," adding that "they will not succeed, we are more, so many more."
Todo el día de ayer hemos recibido ataques desde el extranjero contra nuestras cuentas. Para ello, han infiltrado computadoras de...

— Rafael Correa (@MashiRafael) November 22, 2014
Correa gave few details in the Twitter posts, but according to Telesur said that the attacks carried on throughout all of last Thursday, November 20, and that they are an American effort.
"On Thursday, all day I received attacks… that come from abroad and trace back to a server in the United States, targeting my bills, trying to hack my information, turn on microphones, listen in on our conversations," Correa said in his weekly Citizen Link no.399.
Last March, Correa shared similar fears, denouncing foreign attempts at targeting computers, seeing them also as the work of "unscrupulous domestic opponents."
The same view was voiced in October, this time with regard to Colombia. The president had later said that all the necessary precautions to avoid this happening in the future have been taken, including encrypting official communications.
Correa's position on the matter, especially in light of the allegations of US wiretapping, resulted in the creation of a dedicated cyber defense department this summer.
According to the ANDES news agency, 99 percent of the Latin American state's internal and external communication travels through computer infrastructure housed in the US. This concern was voiced by the country's adviser to the Foreign Ministry at the Second Meeting on Comprehensive Security in the capital, Quito.
Correa has repeatedly criticized the US spying practices and showed support for whistleblowers. For two years now he has allowed WikiLeaks founder and whistleblower Julian Assange to stay at Ecuador's London embassy indefinitely, despite rapidly worsening relations with the West over the matter.
The Ecuadorian leader has also considered offering asylum to former US intelligence contractor Edward Snowden.
You can share this story on social media: