#Shirtstorm backlash: Internet steps up to defend Rosetta scientist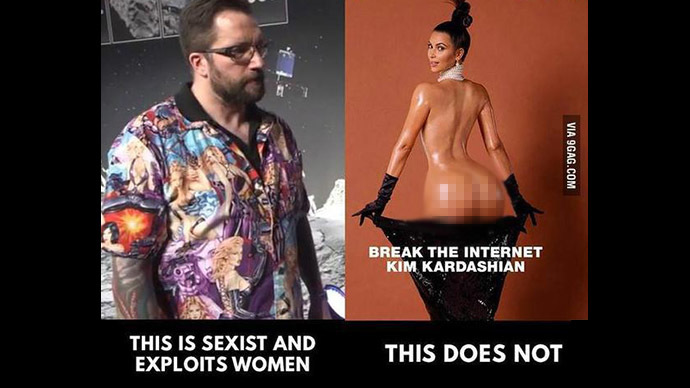 British scientist Matt Taylor broke down in tears when apologizing for wearing a shirt with bikini-clad women during the comet-landing mission, but much of the internet says he's got nothing to apologize for.
The 42-year-old eccentric chief of Science for the Rosetta space mission, wore the now-notorious Hawaiian shirt during media interviews, just as the Philae lander spacecraft was touching down on comet 67P following more than ten years in space.
Yet, on Twitter the achievement was quickly overshadowed. The most prominent early critics were astrophysicist Katie Mack and The Atlantic's science writer Rose Eveleth.
I don't care what scientists wear. But a shirt featuring women in lingerie isn't appropriate for a broadcast if you care about women in STEM

— Katie Mack (@AstroKatie) November 12, 2014
No no women are toooootally welcome in our community, just ask the dude in this shirt. https://t.co/r88QRzsqAmpic.twitter.com/XmhHKrNaq5

— Rose Eveleth (@roseveleth) November 12, 2014
Thanks for ruining the cool comet landing for me asshole.

— Rose Eveleth (@roseveleth) November 12, 2014
Within hours, the maker of the customized shirt, Elly Prizeman, defended her friend, telling the media that Matt wore the garment - a recent birthday present - as a gesture of gratitude to her.
I made a shirt for one of my close pals @mggtTaylor for his b'day. Did not expect this!! #shirtgate#shirtstorm#Rosetta#Shirt#sewing

— Elly PriZeMaN (@ellypriZeMaN) November 13, 2014
I am heartbroken to see my friend getting upset for the world to see just because he was himself. What he achieved was lost in negativity.

— Elly PriZeMaN (@ellypriZeMaN) November 14, 2014
Orders for the a $60 shirt with the same pattern immediately flooded in.
SOLD OUT! I can't contain my happiness at this fact. #shirtgate#shirtstormpic.twitter.com/ybtOZRi9cv

— Venimus Vidimus (@venimus_vidimus) November 15, 2014
But, as news outlets, including the Verge (headline and lede: I don't care if you landed a spacecraft on a comet, your shirt is sexist and ostracizing (that's one small step for man, three steps back for humankind) picked up the subject and published editorials against the shirt, Taylor apologized.
The sight of an evidently stricken, tearful Taylor, provoked a second wave of sympathetic responses.
#shirtstorm#shirtgate My heart really goes out to Dr.Taylor, keep sporting your silly shirts science bro! pic.twitter.com/Ke0l1uleyd

— RogueRobot★9733 (@Lemmingbot) November 19, 2014
Here's to Matt Taylor, the badass who helped land a tiny machine on a comet 300 mil miles away http://t.co/nAXUJHSkDt#Shirtgate#shirtstorm

— Katie Pavlich (@KatiePavlich) November 20, 2014
A group of sympathisers set up a fundraising campaign to award a gift to Matt Taylor and his team (though the Rosetta scientist said he couldn't accept.) A petition in his support also gathered over 10,000 votes.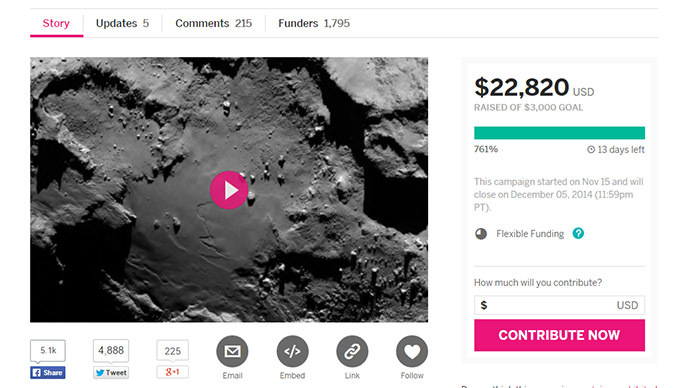 Some used visual humor to take a pop at his critics.
I've created a new shirt for Dr. Matt Taylor, approved by #Feminists#ShirtStormpic.twitter.com/mug32lrKgA

— The Chris Coon (@Coondawg68) November 16, 2014
BREAKING: ESA responds to #Shirtstorm, announces new, inoffensive, SJW approved ESA uniforms @thunderf00t@CHSommerspic.twitter.com/YsG1wzmGUO

— Eggard Snark #7660 (@Eggkin) November 14, 2014
Others went for the history angle.
Columbus, I don't care if u discovered a new continent, ur shirt is sexist and ostracizing! #ShirtStorm#GamerGatepic.twitter.com/wBARXVIRer

— YTheAlien (@vidgamejournal) November 15, 2014
"I don't care that you helped stop the Nazis. That bomber art is sexist and ostracizing." #GamerGate#shirtstormpic.twitter.com/0wzRhhx5wP

— vonFlampanker (@vonFlampanker) November 16, 2014
As the debate grew more bitter, some still preferred to use sentences.
How I feel about #ShirtGate / #Shirtstormpic.twitter.com/i30CqORvOl

— (´・ω・`) (@_icze4r) November 15, 2014
"@Nero: Everything you need to know about #shirtstormpic.twitter.com/bbPqWR3I7s" The irony is palpable. I stand with @mggtTaylor

— Liberty Nerd #2042 (@LibertyNerd) November 15, 2014
Then, even some prominent public feminists decided this had become too destructive.
♈ #ShirtStorm Feminist hero, a Somali-Dutch female politician, calls feminist gripes about shirt "trivial bullshit". pic.twitter.com/f3LLCiGXa0

— Complayment d'Objet (@ComplaymentdO) November 22, 2014
Mt @jaspergregory:Feminist Julie Bindel: "Feminism is in danger of becoming toxic"#shirtstormhttp://t.co/CvGH8kKuC8" pic.twitter.com/PlH44mg051

— Mario Cobos . (@mariocobos2001) November 19, 2014
Several lost patience with a straight-faced discussion of the issues.
#ShirtGate has ruined everything for me. #ShirtStormhttps://t.co/tbIFlvTq7p

— Julie Borowski (@JulieBorowski) November 15, 2014
While, the response to the initial incident has unleashed creativity, and forced people to assume social positions, what does it say about modern society that it overshadowed this?
#CometWatch is back! This is comet #67P seen through my NavCam on 17 November http://t.co/yHQNggePSXpic.twitter.com/v7cQjSevNo

— ESA Rosetta Mission (@ESA_Rosetta) November 20, 2014
You can share this story on social media: