Mexican Volcano of Fire spews 5km-high pillar of ash (VIDEOS)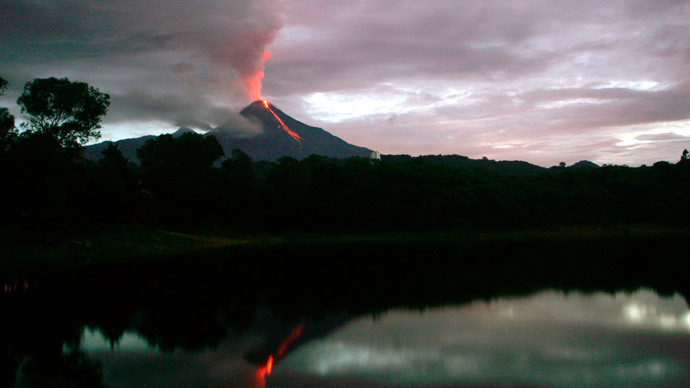 Mexican Volcano of Fire has erupted shooting an ash column 5 kilometers into the air and covering towns as far as 25 kilometers from the peak.
Mexico's federal civil defense office said that no injuries or evacuations have been reported as Colima volcano spewed hot, dry rock and gases two kilometers from the crater at about 12:24 local time.
"We recommend that people cover their nose and mouth, protect sources of potable water, and avoid dumping ash in drainage systems because it hardens with moisture," national civil protection coordinator Luis Felipe Puente told Foro television.
For now, the situation does not present a risk to the population, however, the Interior Ministry will send a team to conduct an evaluation of the activity at the crater. The team will be headed by the Director General of Civil Protection, Ricardo de la Cruz Musalem, and staff from the National Center for Disaster Prevention.
Ash fall is reported in the municipalities of Tonila, Zapotiltic, Jalisco, Quesería, and Colima, at distances of up to 25 kilometers from the volcano.
The 3,820-meter volcano lies 690 kilometers northwest of Mexico City, on the border of Colima and Jalisco states and is considered to be one of the most dangerous in North America.
You can share this story on social media: