'Shame on you!' Ukrainian president booed by protesters on Maidan (VIDEO, PHOTOS)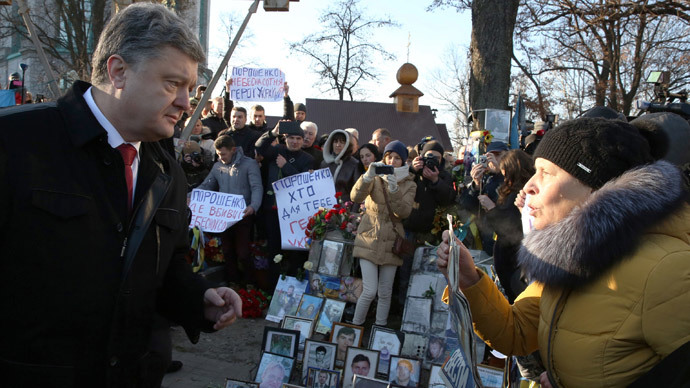 Ukrainian President Petro Poroshenko was heckled by protesters as he tried to pay tribute to the victims of the last year's Euromaidan riots in Kiev, which saw around 100 dead and led to a regime change in the country.
"Shame on you!", "Who are your heroes, Poroshenko?" and "Down with Poroshenko!" people shouted as the president lit a candle at the memorial at Institutskaya Street in central Kiev.
Around 50 people were killed on Institutskaya Street during clashes between the police and protesters, in which firearms were widely used, with the rest of the victims dying at the nearby Independence Square or Maidan.
The relatives of the dead, known as the "Heaven's Hundred," slammed Poroshenko for failing to keep to his promise to grant the title of national hero to those who died during the Maidan riots.
"You promise that our relatives, who gave their lives for the country, are heroes. Say it to the people! Say it louder!" one of the protesters demanded from the president.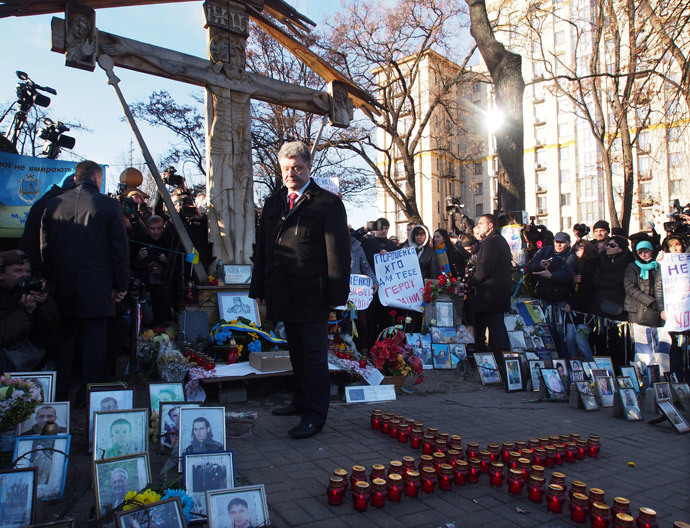 Poroshenko said that he would sign a decree to bring significant financial benefits to the families of the Maidan dead on Friday.
He added: "If shouting like this continues, everything we did on the Maidan will have been in vain."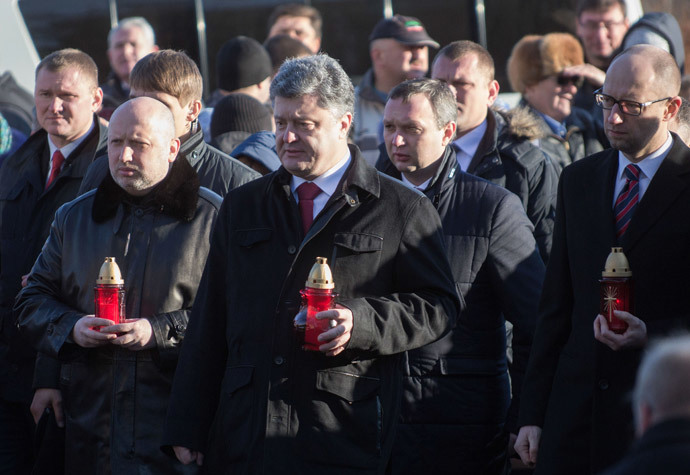 Relatives were also outraged by the inability of the authorities to bring to justice those responsible for the fatalities during pro-European rallies as banners saying: "Poroshenko, where are the killers?" were on display.

Many Euromaidan victims were gunned down by sniper fire, with the ongoing official investigation by Kiev blaming a group of elite soldiers from the Berkut riot police for the killings.
READ MORE: 'No evidence of Berkut police behind mass killing in Kiev' – probe head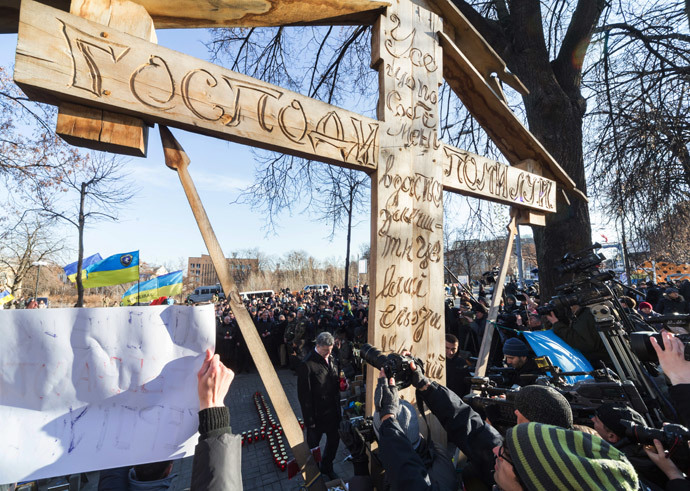 However, there are strong suspicions – backed by a leaked phone call between the Estonian Foreign Minister Urmas Paet and EU foreign affairs chief, Catherine Ashton – that the snipers were, actually, hired by the leaders of the Maidan protests.
READ MORE: Estonian Foreign Ministry confirms authenticity of leaked call on Kiev snipers

During the ceremony, Poroshenko was accompanied by US Vice President Joe Biden, who arrived in Kiev on Thursday for talks with the Ukrainian leadership.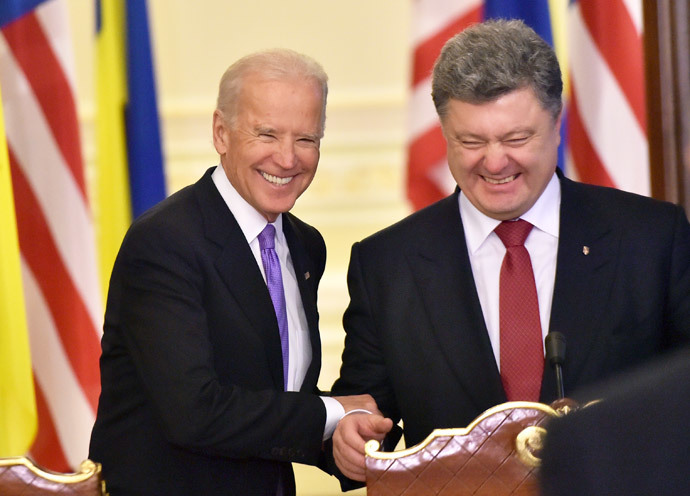 Ukraine celebrates "Dignity and Freedom Day" on Friday, marking the first anniversary of the Euromaidan.

On November 21, 2013, thousands gathered on Kiev's Independence Square after then-President Viktor Yanukovich decided to postpone the signing of an association agreement with the European Union.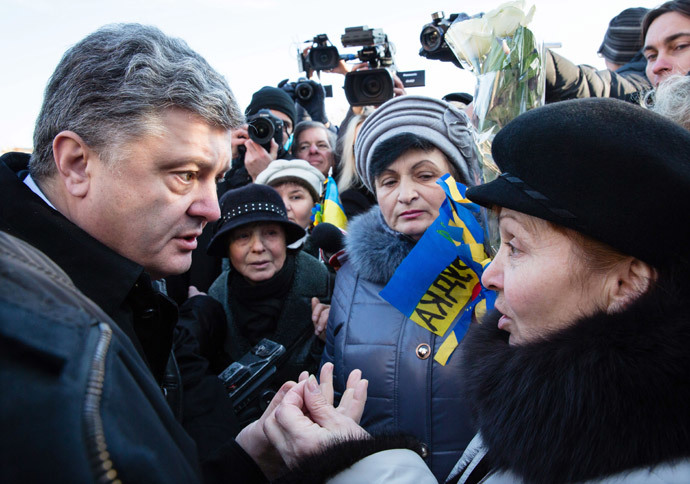 The protests, spearheaded by far-right radicals, lasted for several months and culminated in heavy violence in February 2014, which forced Yanukovich to flee the country.

The coup in Kiev resulted to the Republic of Crimea withdrawing from Ukraine and provoked a conflict in the country's southeast, in which over 4,300 people have died, according to the UN.
You can share this story on social media: