Toyota unveils game changer hydrogen-powered car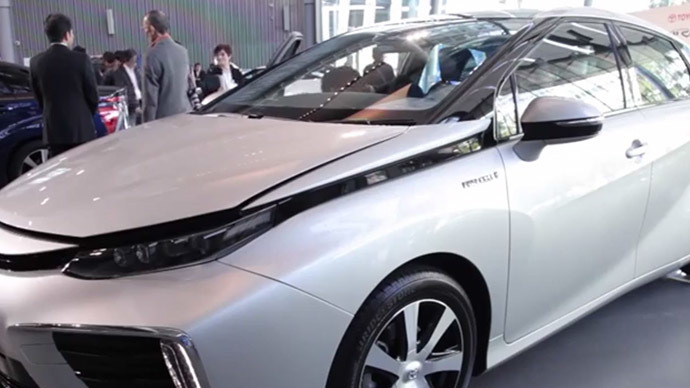 Toyota has unveiled the first mass-market hydrogen fuel cell car, which will start selling in Japan next month and in the US and Europe in 2015.
The four-door sedan, called the Mirai, which means future in Japanese, will emit only water vapor, but it's not cheap at 6.7 million yen ($57,000). It's designed for a niche market and Toyota is only expecting to sell 400 of them next year.
Although by the end of 2017, Toyota hopes to have sold 3,000 of them in the US and about 100 per year in Europe.
Toyota, the world's biggest carmaker, is hoping to make "tens of thousands" of units over the next decade.
The Mirai will be capable of travelling up to 650 kilometers without refueling, three times further than a traditional electric car, while its hydrogen tanks can be filled up in a few minutes like petrol or diesel vehicles so there is no need for a lengthy recharging of batteries. The vehicle emits no exhaust fumes, although fossil fuels are used to produce hydrogen and then to compress it.
Mitsushisa Kato, executive vice president of Toyota, said that Mirai marks a milestone in motoring technology.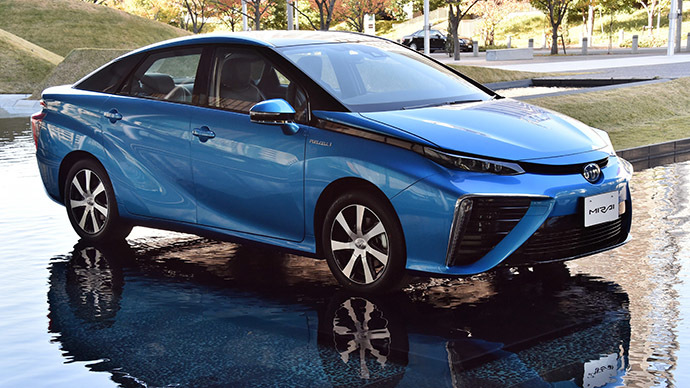 "Mirai symbolizes two major innovations. First, this is an innovative way to solve global environmental and energy problems... and second, this innovation will help usher in a hydrogen-based society," he said at a presentation in Tokyo on Tuesday.
Meanwhile, Toyota CEO Akio Toyoda said in a video message on the company's website: "We are at a turning point in the automotive industry."
Fuel cells cars like the Mirai are powered by hydrogen and oxygen and produce only water vapor as a byproduct.
It is the Japanese that are the world leaders in the green car sector, including Honda and Nissan. The country's seven car manufacturers are reportedly planning to spend up to $24 billion in research in the field this year alone.
Honda, one of Toyota's biggest rivals, also aims to launch a commercial fuel cell vehicle in March 2016. Honda already makes the FCX Clarity, a fuel cell car produced on a small scale for a few markets.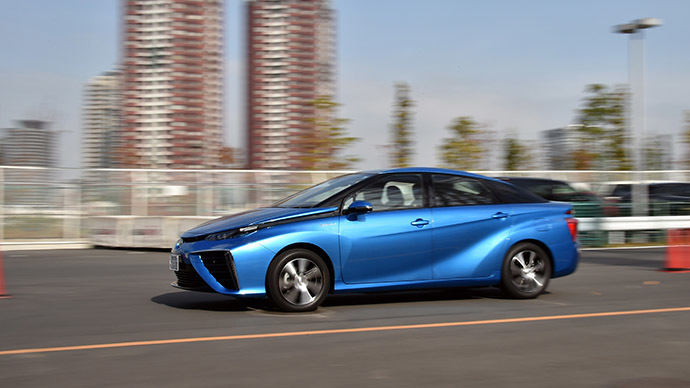 Toyota says it will attempt to bring the price down for hydrogen-powered vehicles and up the number of hydrogen refueling stations to 100 next year. At the moment there only a few dozen hydrogen filling stations in the world, found in developed countries.
Toyota already produces the fast-selling and successful Prius, a petrol-electric hybrid, which has already sold over 3 million units since its introduction in 1997.
"It was a big challenge when we first introduced the Prius, or hybrid car, in 1997. And it's an even bigger challenge this time because there is no infrastructure, and we're trying to lead," said Yoshikazu Tanaku, the deputy chief engineer for Toyota's next generation vehicle department, The Guardian reported.
You can share this story on social media: