'Crazy science': Russians use liquid nitrogen to reinvent #IceBucketChallenge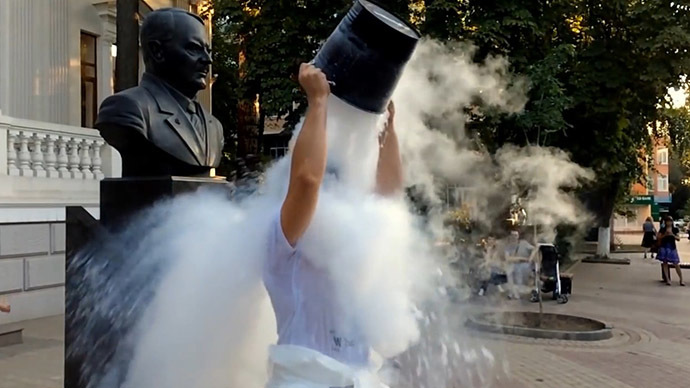 People around the globe oohed and aahed after freezing themselves with buckets of ice water, but for the sake of 'crazy Russian science' some went further, pouring almost 300 degrees Fahrenheit colder liquid over their heads.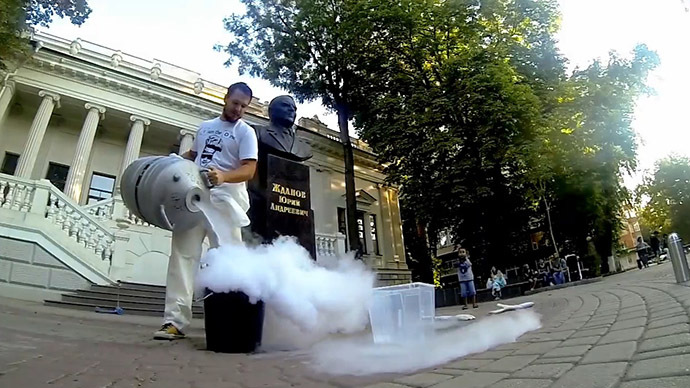 Nikolay Novosyolov, founder of a science popularization project, braved the experience in Rostov-on-Don in southern Russia. The man poured a bucket of liquid nitrogen, which temperature was minus 322 degrees Fahrenheit (minus 197 Celcuis), as part of the #IceBucketChallenge campaign, taking the world's social media charity craze to a whole new level.
Standing next to a monument of a Russian chemistry professor Yury Zhdanov, the man behind a company which organizes various entertaining scientific shows and workshops, first dipped a rose into the bucket - with the flower immediately going crispy frozen.
He then dumped a bucketfull of the extremely cold liquid over his head. When the white cloud around him cleared, the astonished audience saw the man was wet through, but unharmed.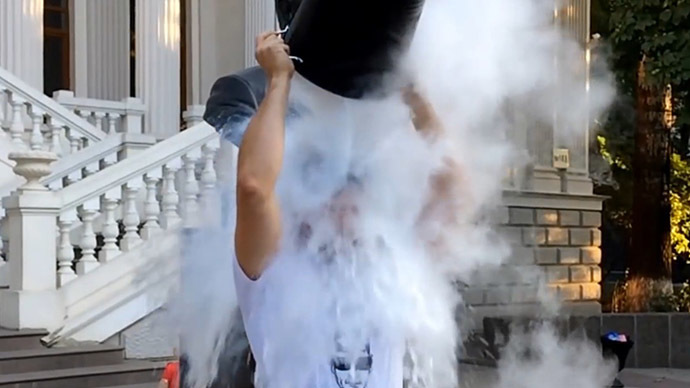 The phenomenon is known as the Leidenfrost effect, discovered centuries ago. The liquid simply ricochetted off the human body without freezing, as the flesh was significantly hotter than the liquid's boiling point. Instead of freezing the body immediately, the liquid nitrogen produced a protective vapor layer, which prevented it from boiling rapidly.
However, if any body part were given time to cool down below the Leidenfrost boiling point, it could freeze. Careless handling of the extremely cold liquid, which has an ability to maintain temperatures far below the freezing point of water, can also result in cold burns.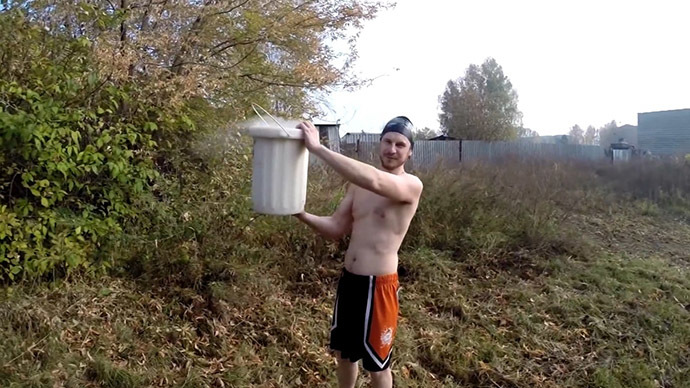 Another Russian man - who works at the cryogenic station of a physics institute in the city of Krasnoyarsk in Siberia seemed to know his physics too.
"Study physics, chemistry and mathematics and you will know the boundary between what you can do and cannot," the guy said before pouring a bucket of freshly made liquid nitrogen over his head.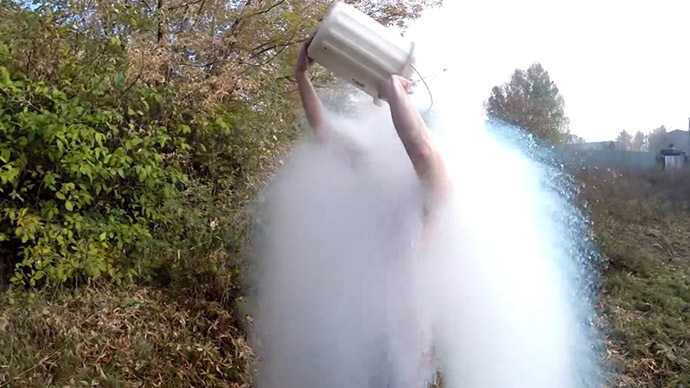 Before stripping off and placing a swimming cap over his head, the man plunged a branch of leaves into the bucket, which froze instantly, proving it was nothing else but a minus 320 degrees Fahrenheit (minus 196 Celcuis) liquid nitrogen - a bit warmer than the one used by another experimentalist.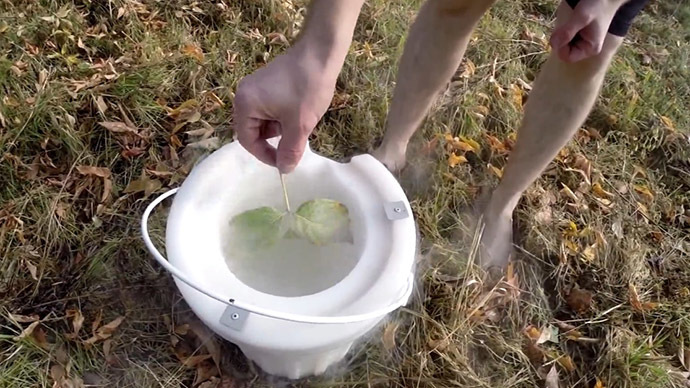 "Will you crumble now?" the man's friend asked seconds after the very cold shower, but the man in his swim shorts was only smiling, saying "it's cold, but feels good!" They decided the #IceBucketChallenge was no longer trendy, and dedicated their experiment to "crazy Russian science."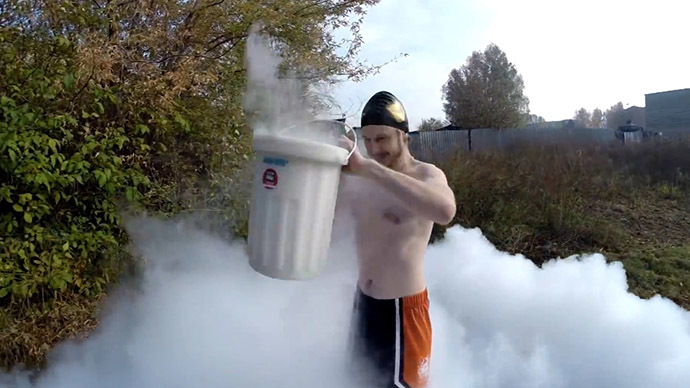 You can share this story on social media: