Eyeful Tower? Paris turns down controversial €500mn skyscraper design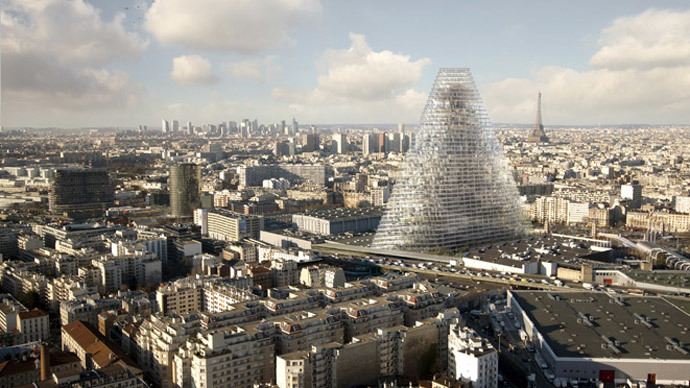 The Paris City Council has voted against plans for a new "Tour Triangle" skyscraper that could ruin the city's 19th-century skyline. However, the mayor immediately declared the results invalid, triggering a debate over city's image and future.
The secret vote divided the City Council 83-78 Monday over whether central Paris should be preserved, or turn to innovation. The skyscraper, worth €500 million, would be the third-largest tower in the center of the French capital, after the Eiffel Tower and the Montparnasse Tower.
The council voted against the 42-storey building, which would be 180 meters tall and located near Paris' main exhibition center at Porte de Versailles.
Socialist Mayor Anne Hidalgo supported the project, but her environmental party allies rejected it. The fact that some conservative members revealed their views, publicly showing their marked ballot cards, she regarded as grounds to call the vote "invalid."
The mayor added she would bring the matter before an administrative court.
The Paris mayor told French newspaper Les Echos last week: "We are at the very last stage of approving it and I will not abandon it."
Je vote CONTRE la tour triangle! Ayons le courage de nos votes! @GroupeUMP@nk_m@anne_hidalgopic.twitter.com/753z0jhL4P

— Claude Goasguen (@ClaudeGoasguen) November 17, 2014
"Many UMP councillors had supported this project but they were forced today, for partisan reasons, to vote against it," Jean-Louis Missika, Hidalgo's architecture and urbanism supremo, told France 24 immediately after the vote, referring to France's UMP, the main center-right party.
It was designed by a Swiss architectural agency Herzog and De Meuron that also constructed the "Bird's Nest" Olympic stadium in Beijing. The company declined to comment to AP on the results of the vote.
The project of the "Tour Triangle" was granted a preliminary permission in 2011, with the support of a majority of city officials.
Nevertheless, it was opposed by Paris's Green Party councilors, as well as by the locals who are worried that the building would distress the harmony of Paris's famed 19th century "Haussmann" style of architecture and thus drive tourists away.