Incredible video of young elephant repelling 14 hungry lions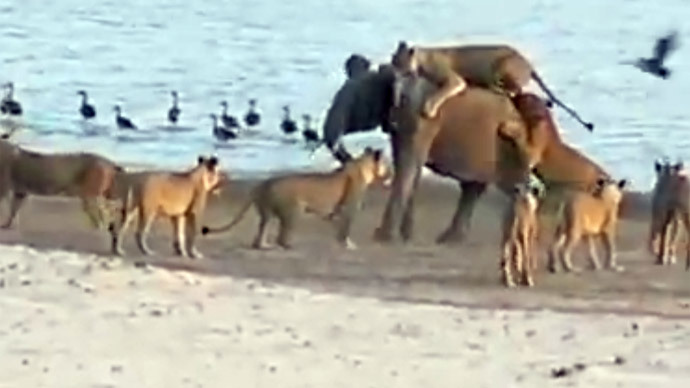 In a desperate bid for survival, a young elephant showed tremendous courage to fight off a pride of 14 female lions. A video shows them chasing the animal to a riverbank, before it fights back, reverses the tables and escapes.
The scene took place in Zambia's Norman Carr Safaris Chinzombo Camp, as tourists stood a short distance away, filming the spectacle that threatened to quickly turn bloody and gruesome.
Hercules – the new King of the Jungle – as visitors and staff now call the elephant – somehow became separated from his herd and had to fight overwhelming odds in the face of certain death.
"In the many years I have been a safari guide in Zambia at the South Luangwa, never have I seen anything like this," said Innocent, a safari guide at the reserve.
"We were all so worried the elephant would be killed right before us. What a fighter," he added.
At one point, the poor animal had three lions on his back simultaneously. But he kicked and bucked to get to the river, where he thought the lions couldn't catch him. Unfortunately, they were having none of it and charged straight into the river.
As a last resort, the brave elephant turned around and charged the lions, gathering up just enough speed to break their circle and make it out of the area alive.
"It's hard to judge what actually happened," Innocent continued. He also said that behavior in such situations may differ from place to place, depending on various conditions.
Because elephant calves are incredibly insecure when separated from their herd, it is truly a wonder what took place in the video, now seen by over 200,000 people on YouTube.