Rosetta's comet drill results may not get to Earth - ESA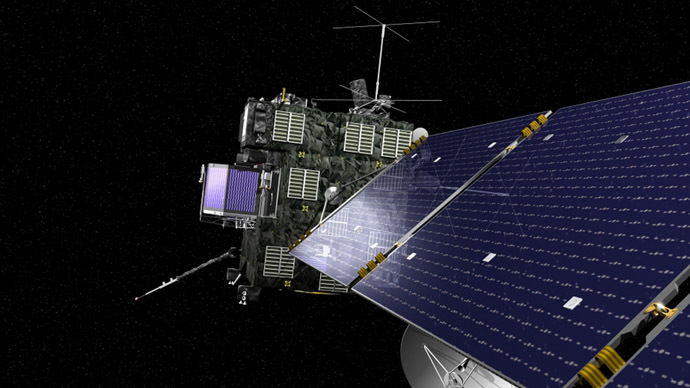 After the long-awaited landing to the Comet 67P/Churyumov-Gerasimenko there are doubts about the Rosetta space mission's ability to transfer data back to Earth due to problems with battery charging, the European Space Agency said.
Philae, Rosetta's probe, landed on the comet on November 12 after traveling more than a decade and 6.5 billion kilometers (four billion miles).
After touchdown, the probe bounced twice and came to rest in a shadowy and dusty place. As a result it's getting only 1.5 hours of sunlight a day. Meanwhile, to recharge its solar batteries fully the probe needs six or seven hours.
Now that I'm safely on the ground, here is what my new home #67P looks like from where I am. #CometLandingpic.twitter.com/gFmt8Ldvpa

— Philae Lander (@Philae2014) November 13, 2014
ESA researchers are using all possible ways to explore the surface of the comet, including taking the temperature and capturing some drilling samples. But now specialists are expressing concern over whether the data can be transferred back to Earth.
"The drill has been active today, whether it will sample and will succeed in bringing these samples to ovens we shall know this evening," said Stephan Ulamec, Philae lander manager. "This would be fantastic but it is not secured - maybe the battery will be empty before we get contact again."
Philae probing comet with hours left on battery http://t.co/GPgx0S2Ob0pic.twitter.com/Vitn9JQaRf

— FRANCE 24 (@FRANCE24) November 14, 2014
The researchers still cannot exactly locate Philae's position on the comet and examine the radio transmissions between the orbiter and the probe. They also decided to try to change the position of the robot, to turn its solar panel to the sun a bit more in an attempt to recharge its batteries.
The robot's primary battery may run out in the next 24 hours, ESA says. The secondary battery, equipped with solar panels, can be used much longer if it gets the necessary amount of sunlight.
WATCH THE PRESS CONFERENCE OF ROSETTA PROJECT GROUP
You can share this story on social media: