'Xenophobic' violence in Rome forces evacuation of kids, riot police action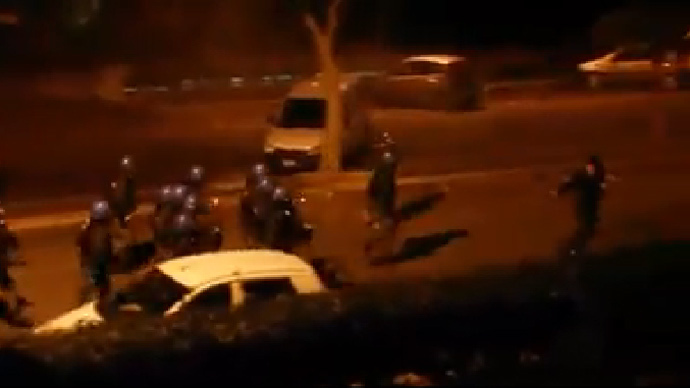 Unyielding attacks by locals against refugees have forced Rome's mayor to order the evacuation of migrant children living in the eastern outskirts of the city. Riot police were unable to properly protect them from the anti-immigrant brutality.
A total of 45 children are being moved from a center for immigrants located in Tor Sapienza – a poor neighborhood on the periphery of Rome which has been harassed by local residents for the past four days.
#TorSapienza è solo la punta dell'iceberg dell'insofferenza degli italiani che non ne possono più @italiainsiemepic.twitter.com/3mmGclJdl3

— Ettore ® (@Ettoreeeee) November 13, 2014
A violent outburst at the center on Thursday sparked safety concerns, warranting the evacuation, according to media reports.
The attackers accused the refugees of committing crimes such as drug trafficking and prostitution, while blaming the government for opening up Italy's doors to migrants without proper programs to integrate and house them.
Rome riot police to prevent attacks on refugees http://t.co/5TNYsX8D3M#torsapienza#italypic.twitter.com/8dMavzLjIk

— eⒶtps (@eatps_) November 13, 2014
Rome's mayor, Ignazio Marino, said the migrant center – which houses a total of 70 people – is "seriously damaged" and no longer able to provide protection to children.
The presence of riot police did not stop the attackers from throwing objects at the center, including stones and bottles, Reuters reported.
#TorSapienza,#Rome.Following anti-foreigners protests,#migrants start leave shelter.Unaccompanied #minors transfered,@ZoeJardiniere@euobs

— Angelo Tino (@angelo_tino) November 13, 2014
The prosecutor's office said in a statement that "Rome rejects all forms of violence, racism and xenophobia," adding that it is investigating the attacks.
"Il vero criminale è lo stato che ci abbandona" striscioni a #TorSapienzapic.twitter.com/Gc7TWKQRCX

— francesca barra (@francescabarra) November 13, 2014
Italian media reported that some of the instigators are members of far-right groups, such as "Il Duce," which references fascist dictator Benito Mussolini.
Stand off continues in Tor Sapienza, Rome. Locals tell me this just the start: 'this is the Italian Bronx & banlieue' pic.twitter.com/usHios1R2D

— Jenny Allsopp (@JenniferAllsopp) November 13, 2014
The aggression has terrified those who live and work at the center.
"We are scared. We are trying to find a compromise with the residents," employee Francesco Amato told the Guardian.
Rome riot police to prevent attacks on refugees http://t.co/5TNYsX8D3M#torsapienza#italypic.twitter.com/8dMavzLjIk

— eⒶtps (@eatps_) November 13, 2014
The office of the UN's High Commissioner for Refugees (UNHCR) issued a statement against the attacks, deeming them "unacceptable" acts of violence.
UNHCR condemns violence against refugees in Rome; refugees deserve protection, not unacceptable acts of violence http://t.co/m0igD51Xro (IT)

— UNHCRNews (@RefugeesMedia) November 13, 2014
The conflict escalated on Monday, with rioters throwing objects and setting garbage ablaze in front of the center while shouting insults at the immigrants living there.
#TorSapienza, comincia il trasferimento dei rifugiati dal centro. Stamattina un altro assalto http://t.co/Io9ZrcOvMdpic.twitter.com/1VNxgUd5JP

— Agenzia ANSA (@Agenzia_Ansa) November 13, 2014
This is not the first time that Rome has been forced to tackle anti-immigrant brutality. In September, the suburb of Corcolle saw similar rioting. Other random offenses against migrants have also taken place across the Italian capital.