Rome police disperse protest rally with tear gas (PHOTOS)
Police have used tear gas against protesters as hundreds marched through central Rome demanding better housing policies. The rally turned violent when demonstrators started throwing eggs, smoke bombs and bottles at law enforcers.
Demonstrators also attacked an armored vehicle and attempted to break police barricade, as police pushed back activists on their way to the regional affairs ministry.
There have been conflicting reports in the media on the number of injured. According to local media, over ten protesters and three policemen were wounded. A tourist was hospitalized after being poisoned with tear gas. La Stampa daily reported earlier that six people, including four police officers, were wounded and taken to hospital and a dozen received medical help on the site. Several protesters were detained.
Police blocked several streets and closed shops in the area where clashes erupted.

Roma 31/10/2013 earlier #31o#nocommentpic.twitter.com/zgXFeXfJEx

— Andrea Alfano (@laccio) October 31, 2013
The rally on Thursday was organized by activists from the movement 'For Housing' who are demanding that local authorities stop evictions in Rome and use more public funds to help people without homes or those who cannot pay their rent.
The demonstration coincided with the meeting of representatives from the government, regional authorities and City Hall, who gathered to discuss an emergency plan to tackle the lack of affordable housing.
Mayor of Rome, Ignazio Marino, should be "banging his fists" on the table demanding more housing for the poor, one of protesters said, as cited by AP. 
The mayor "has to ask with determination for an end to the evictions of those who can't pay (their rent)," added Paolo Di Vetta from the "Living in the Crisis" Association.

Migrants and refugees also joined the protest in Rome, which is a continuation of the October 19 anti-austerity rally. The previous march in the capital also ended with violent clashes between demonstrators and police.
Similar protests against evictions have taken place in many cities across Italy.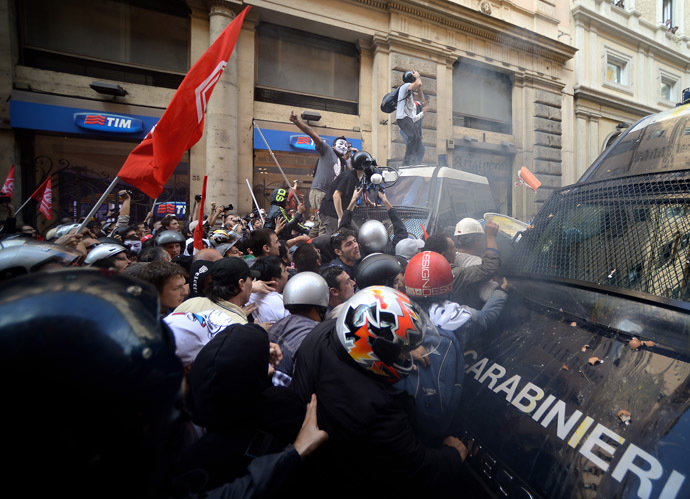 Since Italy is a free market economy, it is very difficult to reduce housing prices.
"[Authorities] can try to lower prices when the buildings are public – there's still a stock of public buildings in the capital. But otherwise, they are private. They can try to reduce taxes on the housing…hoping that owners will lower the rent, which is rather improbable," political analyst Alessandro Politi told RT.
The population's anger comes as a result of the long-term recession in Italy, which has borrowed more than it can afford. The country, previously the eighth largest economy in the world, has now been bumped to ninth place.
However, Politi believes that asking EU partners for a bailout is not the way forward – even though the situation is worsening.
"A bailout would compromise the credibility of the Italian debt," he said, adding that this is precisely what Prime Minister Enrico Letta and the European Central Bank are trying to avoid. "It would also be a signal, a run-in for speculators who are putting under assault the euro since at least two years. What is generally called the 'crisis of the euro' is in reality a coordinated private financial assault."