Drinkers of the world unite! New alcohol lovers' app labeled Facebook for boozehounds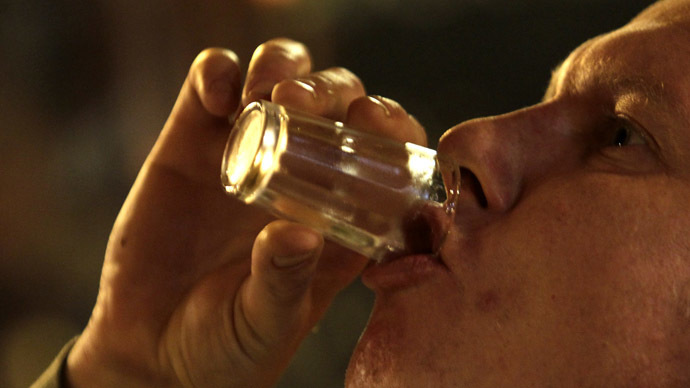 From premium hops, corvina grapes and single malt heaven in port pipe casks, the life of a drinker is brimming with options. Dubbed the Facebook for imbibers, a rebranded app hopes to bring carousers of every kind together no matter what their poison.
Swig is the brainchild of Harry Raymond, who hoped to establish an online community for "all the world's drinkers."
While drinking in the East Village one night, Raymond stumbled upon a problem which every dedicated boozer has encountered from time to time; he stumbled upon a beautiful beverage only to forget its name the next day.
The app is intended to counter all that. Described as a blend of Instagram, Swarm and Yelp by the tech blog Techli, Swig allows users to share their favorite drinks and watering holes with texts and pictures. What's more, they can also be exposed to a variety of drinks that might have otherwise never had the pleasure of taking a sip (or a swig) of.
Raymond says Swig's necessity stems from the fact that Facebook and Instagram are impossible to customize nowadays. So in order to make the perfect social networking experience for the real drink-lover, a new app was in order.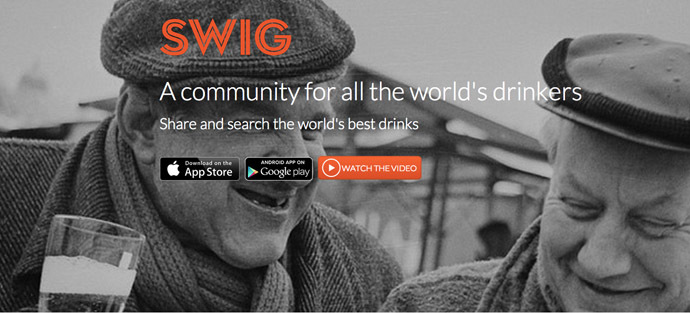 Technically speaking, Swig isn't entirely new, but is rather a rebranded version of an old Apple ios app called Shindig (Americanism for party). Strangely enough, after launching a successful Kickstarter campaign to get funds for a broader rollout, nearly $22,000 bucks and a bit of online research uncovered some unexpected intel from the world's drinkers. As it turned out, Shindig was very popular internationally (no surprise), especially in Germany (definitely not a surprise!) The problem: Germans couldn't really pronounce 'Shindig', nor did the word translate well into the tongue of the world-renowned beer lovers.
So the solution seemed simple, keep the concept, change the name, oh, and add an Android version.
Of course, neither Swig nor Shindig were the first drink apps to hit the market.
According to their creators, however, Swig is the most ecumenical, vowing to bring oenophiles, six-pack pounders and every other sort of drinker under the sun (or table) together.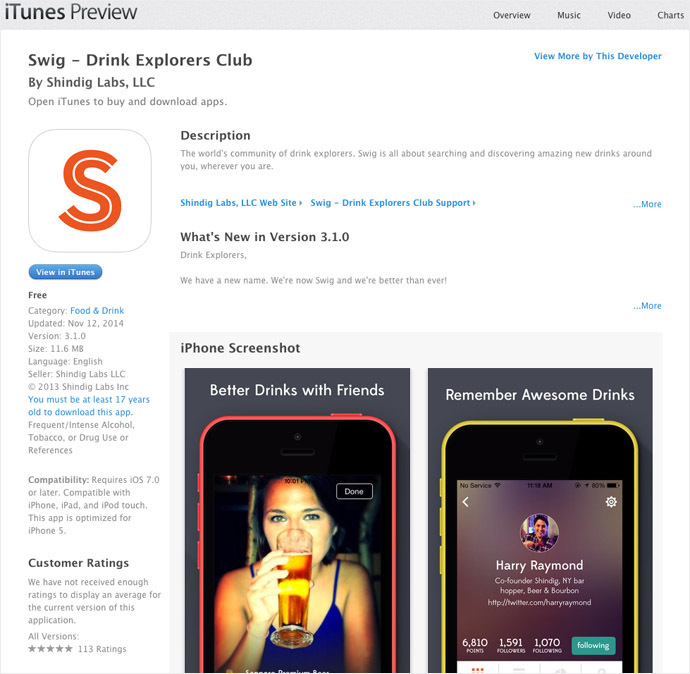 "When we looked at drinking apps out there, everything was tailored towards aficionados," Raymond told C-Net. "We wanted an easy-to-use, accessible app for a young, mobile audience. For example, Delectable is very focused on sharing and collecting wine labels, so they attract an audience of hard-core winos. We wanted something that was easy to use."
As Raymond sees it, while mixing different types of drinks is the perfect recipe for a hangover, mixing different types of drinkers makes for the ultimate hangout.
"Swig bridges the gap between the beer, wine and spirit worlds. We had two apps for beer, one app for finding beer menus, two apps for cocktails, three apps for wine notes, five apps for wine reviews. We wanted to build something for drinking experiences of any kind, anywhere," he told the US-based tech website.
The app so far promises a database of 70,000 plus beers, wines and spirits, and that is growing by the day.
With a slew of mixologists, bar owners and brew masters likely to be enticed by the buzz around Swig, Raymond believes it will one day understand drink trends better than any other app on the market.
"Let's say you walk into a new French restaurant. Swig will show you the drinks we know you'll love even before you're given the wine list. It sounds like science fiction, but it's not too far away."
And for those who already have a dram, mug or tumbler at hand, that such a future is not out of hand should be mighty heady news indeed.
You can share this story on social media: