​Propeller smashes through plane window in Air Canada emergency landing (PHOTOS, VIDEO)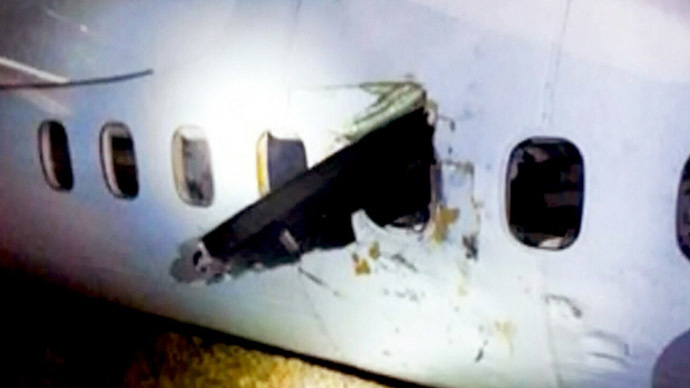 A plane's propeller burst through a window, striking a passenger in the head, when an Air Canada flight was forced to make an emergency landing in Edmonton, reportedly following a burst tire.
Christina Kurylo, one of five Grande Prairie radio station employees aboard the flight last Thursday, considers herself lucky to be alive. The propeller, which punctured the side of the aircraft during a rough emergency landing, narrowly missed her head.
"I'm really lucky. It could have been a million times worse," Kurylo, told Global News. "I could have died, you know, you never know what could have happened."
The propeller knocked out part of the inside wall of the aircraft, sending fiberglass and pieces of wall flying at Kurylo's head. "All of a sudden I got hit in the head. It was pretty confusing for me. It's bits and pieces for me after that," she said.
A #propeller blade smashes into #plane window during an emergency landing! http://t.co/fAYjIR5WMf

— Totaltravel (@totaltravel) 10 ноября 2014
Kurylo, who was taken to an Edmonton hospital, suffered bruises and scratches from the impact.
"Just from the blow of it happening she had quite a huge head lump and it was quite purple and lots of bruises and scratches," said Melissa Menard, Kurylo's colleague who was also aboard the flight.
Of the 75 people aboard the flight, three other passengers were injured by debris, but no one was directly hit by the propeller.
"The sort of least worst scenario is minor injuries like this, so we're certainly very happy to be in a position that there are no worse injuries than that," said Heather Hamilton, a spokesperson for the Edmonton airport.
Genevieve Corbin, a representative of the Transport Safety Board of Canada (TSB) confirmed that "a portion of one of the propeller blades" was partially lodged into the fuselage of the airplane, and said that the TSB is continuing to investigate possible causes of the incident.
"At this stage, we cannot speak about how it got there and the damage that it might have caused. This will be determined as we gather more information," she said.
This angle from Global 1 clearly shows missing propeller blade. #yegpic.twitter.com/hhian5zsko

— Ted Bauer (@tedgbauer) November 7, 2014
The Jazz Aviation aircraft, which was en route to Prairie from Calgary, ended up flipped on its side after the Edmonton landing.
After conducting minor repairs, airport crews reopened the runway where the accident happened Saturday.