Berlin Wall fall display: 8,000 balloons released over Germany (VIDEO)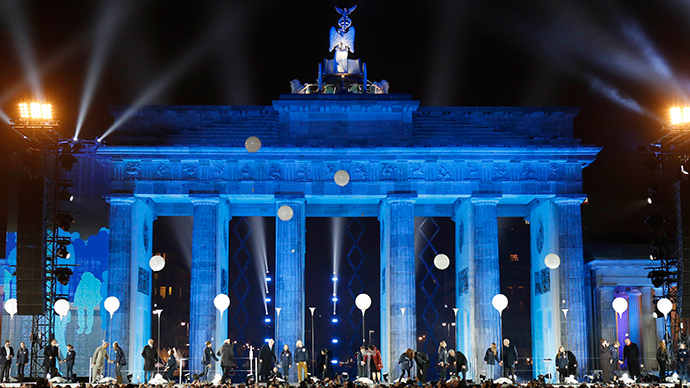 In a display symbolizing the fall of the Berlin Wall a quarter of a century ago, some 8,000 illuminated white balloons, set up along a stretch of its route, have been released in the German sky as thousands gathered to remember the historic event.
The display recalled the night of November 9, 1989, when thousands of Germans reunited with their families for the first time in almost 30 years after the building of the Berlin Wall in 1961.
READ MORE:Tens of thousands gather in Berlin to mark fall of the Wall 25 yrs after (PHOTOS, VIDEO)
"For peace and freedom," Berlin mayor Klaus Wowereit told a crowd gathered at the iconic Brandenburg Gate, thanking former leaders of the Communist block for reuniting Germany. In particular, he thanked then-leader of the USSR Mikhail Gorbachev for paving the way for a peaceful revolution. "Gorbi, Gorbi" shouted the crowd.
Earlier German Chancellor Angela Merkel honored the memory of the 138 people who died along the Berlin Wall in its 28-year existence.
"It was about reclaiming freedom, about being citizens, not subjects," Merkel said at the main memorial site for the wall on Bernauer Strasse. "The fall of the wall has shown us that dreams can come true," said Merkel. "Nothing has to stay the way it is, however big the hurdles are."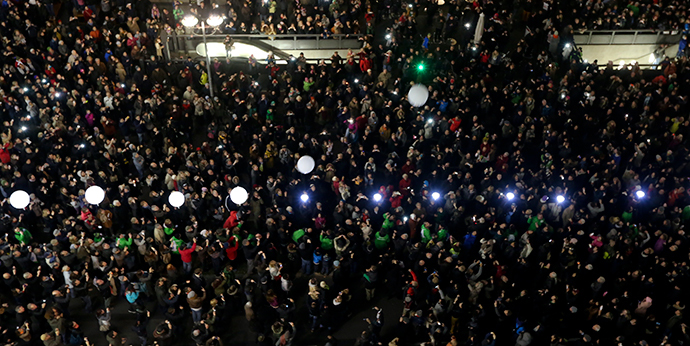 The light installation, developed by Christopher and Marc Bauder, was set up along a 15-kilometre (9.3-mile) stretch of the wall Friday, snaking through areas including Potsdamer Platz, Brandenburg Gate, the Reichstag, Federal Chancellery, East Side Gallery, Mauerpark, Tiergarten, Checkpoint Charlie and the Berlin Wall Memorial.
You can share this story on social media: