'Rocket man' hits 333 km/h on bicycle, breaks world record but no bones (VIDEO)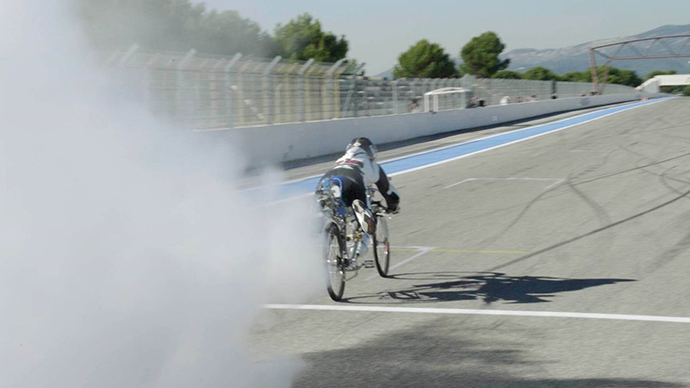 Lying on top of his bicycle with three rocket engines attached to its shining frame, a French daredevil has broken the world record, covering a quarter mile in less than seven seconds, beating a Ferrari F430, and hitting a top velocity of 333 km/h.
Francois Gissy blasted off to glory at a motor racing circuit in Le Catallet, France, achieving a top speed of 333 km/h (207 mph) in just 4.8 seconds from a standing start and crossed the finish line in under 7 seconds.
Making his way to top speed required rocket propellant engines that work with highly concentrated 90% hydrogen peroxide. The rest of the bike is homemade. The frame was made together with friends in Spain. The brakes are ordinary rubber pads. The tires, however, are made for speed. They were tested by Michelin to 300 km/h for one hour with 100 kg load on each tire.
You had to be on the lookout Friday to see a plume of white smoke emerge from a frail bike on the Castellet circuit. In a second, the plume was gone, as well as the bike. Even the Ferrari F430 out for the occasion failed to keep up with the lightweight rocket bike. At the finish line, the GPS installed on the bike indicated he reached a top speed of 333 km/h. This is a new record for François Gissy and designer of the rocket motor Neracher Arnold.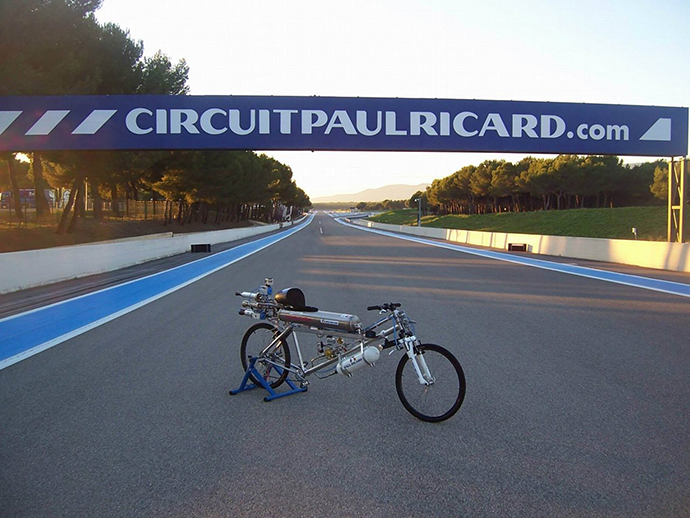 "In all, we made three trials. The first to 166 km/h to take the matter in hand. We did a second test next to a Ferrari at 260 km/h. Then we filled the tank with more pressure and then we beat our old record at 333 km/h.," Gissy told Corsematin online publication.
While thrilled with the achievement, it was not as "fun" as most people would think, he said, as his heart was "pounding" so much.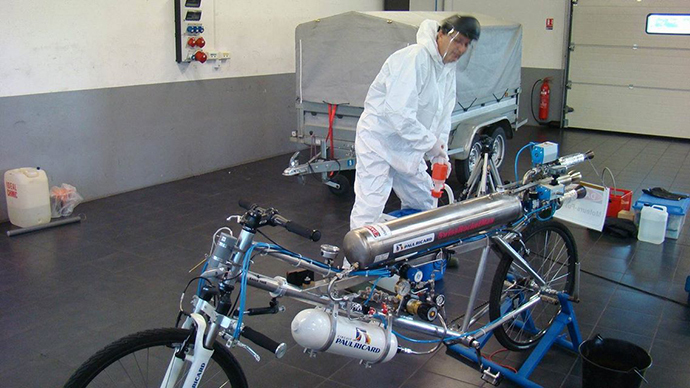 "Yes, there is a risk. That is why I am lying on the bike, to conduct a mass balance. The track also plays a very important role, it must be really smooth because if there is a bump, I could fly away," Gissy said about his race. But to keep the race safe in case of any misfortunes, paramedics and a fire truck waited for him at the finish line.
The 32-year-old Gissy broke his own record of 285 km/h established on October 7, 2013 in Interlaken (Switzerland).
But Gissy still aims for more.
"We can go from 0 to 400 km/h in less than two seconds. But to design a more powerful bike, we would need sponsors," Gissy said.
You can share this story on social media: